This is looking to be a tough night of travel for I-94 in Northwestern Minnesota. The road was shut down due to multiple semi crashes.
The St Cloud Times is reporting that the shutdown has parked over 100 cars:
Patrol Sgt. Jess Grabow says freezing rain fell, causing several semis to jackknife and two to collide near Barnesville in Clay County.
The problem has been due to tough driving due to freezing rain and snow.
(update) The Fargo Forum had pictures and reported:
In North Dakota, more than 20 crashes were reported in and around the Fargo and West Fargo areas, including 15 crashes on a stretch of I-29 extending about eight miles south of Fargo's 32nd Avenue South, state Highway Patrol Capt. Bryan Niewind said. A West Fargo police squad car that got rear-ended was among those involved in the morning crashes, he said.
Here is some Injuryboard advice on winter driving:
What are The Best Ways To Drive When it Snows, Mike Bryant | November 19, 2011 6:55 PM
Winter Driving Tips for Southerners Michael Roberts | January 14, 2011 5:56 PM
Winter Driving Safety Tips from National Highway Traffic Safety Administration, Steve Klearman | January 26, 2011 1:27 PM
Winter Storm Is Coming: Be Prepared And Drive Safely With no Distractions, Mark Bello | February 01, 2011
Best advice is stay home if you can. If not, give yourself enough time and SLOW DOWN!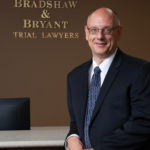 A founding partner with Bradshaw & Bryant, Mike Bryant has always fought to find justice for his clients—knowing that legal troubles, both personal injury and criminal, can be devastating for a family. Voted a Top 40 Personal Injury "Super Lawyer"  multiple years, Mr. Bryant has also been voted one of the Top 100 Minnesota  "Super Lawyers" four times.