Despite the fact that motor-vehicle collisions are often referred to as "accidents," most are entirely preventable. Multiple studies over the past several decades have concluded that driver error is at least partially to blame for about 9 out of 10 wrecks. In some cases, it is determined that the liable party acted with particularly egregious behavior, and punitive damages are awarded in addition to compensatory damages like medical bills, lost income, and pain and suffering.
Because the vast majority of collisions are caused by ordinary negligence, punitive awards are not available in most cases. But if the party who caused your crash acted with intentional disregard or knowledge that their actions would likely cause injury, or with a deliberate disregard for your rights, punitive damages might be obtainable.
Read on to learn about some common scenarios when punitive damages might be awarded in Minnesota:
1. Driving Under the Influence of Drugs or Alcohol
Every licensed motorist should know that driving while impaired is incredibly dangerous. If you're capable of passing the written exam and road test, you're capable of comprehending the risks associated with drunk driving.
The court may determine that a defendant who chose to drive despite being under the influence had knowledge that their actions would likely cause injury. As such, they may be ordered to pay punitive damages.
2. Ignoring Traffic Laws to a Dangerous Degree
Driving 5 mph over the posted speed limit probably would not constitute intentional disregard. Those who exceed the speed limit by 40 or 50 mph, on the other hand, and cause a serious accident as a result, may be ordered to pay punitive damages.
Fleeing the scene of an accident could also lead to a punitive award. This is because failing to contact emergency services could result in the death of another person involved in the crash.
There are many other circumstances when a particularly egregious traffic violation could motivate the court to award punitive damages. The best way to find out if such damages might be obtainable in your case is to speak with a car accident lawyer.
3. Knowingly Operating a Vehicle with Mechanical Issues
Motorists have a duty to maintain their vehicles to a reasonably safe standard. Knowingly driving a car with mechanical issues such as faulty brakes would be considered a breach of this duty, and it would put other people on the road at a high risk of injury.
If you were hurt in a collision caused by some kind of vehicle malfunction and the motorist was aware of the problem before getting behind the wheel, you may be able to seek punitive damages.
Speak with a Minneapolis Car Accident Attorney Today
If you were hurt in a motor-vehicle collision through no fault of your own, contact Bradshaw & Bryant to learn about the kinds of damages you may be able to recover. Call 800-770-7008 or use our Online Contact Form to set up a free consultation with a car accident lawyer in Minneapolis.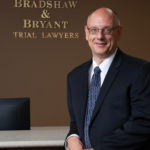 A founding partner with Bradshaw & Bryant, Mike Bryant has always fought to find justice for his clients—knowing that legal troubles, both personal injury and criminal, can be devastating for a family. Voted a Top 40 Personal Injury "Super Lawyer"  multiple years, Mr. Bryant has also been voted one of the Top 100 Minnesota  "Super Lawyers" four times.