Considering  the North Star State are fairly adept at driving in wintry conditions. While this may be true for most residents, though, it's not true for everyone. And there are some conditions that are simply impossible to navigate with ease, no matter how skilled a driver you might be.
As such, collisions during the winter months are fairly common. Slick roads coupled with reduced visibility can make accidents all but inevitable. In fact, nearly one out of four weather-related accidents occur on icy or slushy pavement, and an additional 15 percent happen when it's actively sleeting or snowing.
When an accident happens in snowy conditions, it's easy to assume that none of the drivers involved was at fault; however, negligence usually plays a role even when weather is a contributing factor.
Negligence is the basis on which most car insurance claims are filed. Negligence is defined as one party's breach of the duty of care owed to another party. When road conditions are dangerous, drivers have a duty to adjust their behavior accordingly. If they fail to reduce their speed and keep a safe following distance, they might be held liable for any resulting accidents.
Since the at-fault driver might deny liability, it's wise to seek legal counsel if you were hurt in an accident involving winter weather. Even if you think the crash was unavoidable, a resourceful attorney may be able to prove otherwise.
Below are a few examples of negligent behavior that can lead to accidents in wintry conditions:
• Driving too fast (when the roads are slick, it may be necessary to travel considerably slower than the posted speed limit);
• Failing to use the headlights or wipers;
• Failing to maintain the vehicle's wiper blades or tires;
• Taking turns too quickly;
• Following a vehicle too closely; and
• Failing to clear snow off the roof of the vehicle.
If you were hurt in a collision caused by winter weather and neither you nor the other motorist was engaging in any of the above, the municipality may be to blame. Government agencies have a duty to maintain their roads to a reasonable standard. This may include plowing after the snow has stopped falling and sanding or salting the roads before black ice can develop.
How Does Suing a Government Agency Differ from Suing a Private Citizen?
If it turns out the municipality is to blame for your injuries, you will have to follow different procedures when filing your claim. For example, you must notify the appropriate agency of your claim within just 180 days of the accident. If it is denied, the standard six-year statute of limitations for filing a formal lawsuit would most likely apply.
Call 800-770-7008 for a Free Consultation with a Minneapolis Car Accident Attorney
If you were hurt in a wreck caused by winter weather, contact Bradshaw & Bryant to determine the best way to proceed. By letting us handle the logistics of your case, you will be able to focus on your health. Call 800-770-7008 or use our Online Contact Form to set up a free consultation with a car accident lawyer in Minneapolis.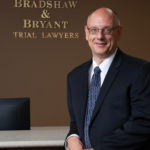 A founding partner with Bradshaw & Bryant, Mike Bryant has always fought to find justice for his clients—knowing that legal troubles, both personal injury and criminal, can be devastating for a family. Voted a Top 40 Personal Injury "Super Lawyer"  multiple years, Mr. Bryant has also been voted one of the Top 100 Minnesota  "Super Lawyers" four times.