When you hire a wrongful death attorney, you should feel confident that your legal team will provide attentive and strategic counsel at every stage of the claims process. After all, your financial security could be at stake. Unfortunately, some attorneys are overworked and do not have sufficient time to devote to each case they handle; others simply lack the skills or litigation experience to provide effective representation.
If you are dissatisfied with your lawyer's performance, it might be worth switching to a different attorney. Here are a few steps to take if you plan to fire your wrongful death lawyer:
Discuss Your Concerns with Your Current Lawyer 
The Minnesota State Bar Association advises dissatisfied clients to discuss any problems they have with their attorney before firing him or her. Most issues can be attributed to poor communication, which is relatively easy to resolve. If your attorney fails to address your concerns, though, you have the right to hire another law firm. 
Find a New Attorney 
It is wise to line up a new attorney before firing the old one. This will prevent any unnecessary delays in the proceedings. It will also give you the opportunity to discuss the situation with the new lawyer before making the switch. An attorney who practices with integrity will be honest with you regarding whether firing your current lawyer would be a smart decision. 
Notify the Previous Lawyer in Writing 
After you have determined that firing your wrongful death attorney is the best move given the circumstances, put everything in writing. Your new lawyer can help draft the letter, which should explain why you are making the change. The letter should also include instructions for forwarding your case file. Keep in mind that your old attorney may not have to turn over his or her own notes, strategies, or theories regarding the claim.
Typically, when clients approach the situation with professionalism and respect, the terminated lawyer will respond in kind. If you are rude and abrasive, though, or threaten to report your experience to the bar association, he or she may not be inclined to work with you or facilitate the transition to a new firm. 
Call 800-770-7008 Today to Speak with a Wrongful Death Lawyer in Minneapolis 
If you have lost a loved one in a preventable accident and want to pursue compensation from the responsible parties, turn to Bradshaw & Bryant to determine the most strategic way to proceed. Our legal team is committed to helping families put their lives back together.
For six consecutive years, attorney Michael Bryant has been named among Minnesota's Top 40 Personal Injury Lawyers by Minnesota Law & Politics. If you cannot come to our law firm for the initial consultation, a member of our team will come to you. Call 320-259-5414 or use our Online Contact Form to set up a free case evaluation with a personal injury lawyer in Minneapolis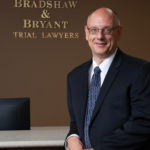 A founding partner with Bradshaw & Bryant, Mike Bryant has always fought to find justice for his clients—knowing that legal troubles, both personal injury and criminal, can be devastating for a family. Voted a Top 40 Personal Injury "Super Lawyer"  multiple years, Mr. Bryant has also been voted one of the Top 100 Minnesota  "Super Lawyers" four times.