It takes only a moment's inattention for a commercial driver to cause a devastating accident. This is why the trucking industry is so highly regulated. For example, while the legal limit for blood alcohol concentration is 0.08 for the average motorist, the limit is only 0.04 for those driving a commercial vehicle.
Additionally, truckers must track the time they spend both on and off the road to ensure they don't violate the hours of service regulations. Otherwise, they risk driving while drowsy and facing legal consequences.
It goes without saying that the risk of crashing is far higher when a trucker is drunk, drowsy, or distracted. If such misconduct leads to a collision that injures or kills another person, the trucker—and perhaps his or her employer—could be liable for the resulting damages.
Accident victims or their surviving loved ones may be able to collect both economic damages (objectively verifiable financial losses) and non-economic damages (the subjective consequences of the tort). In some cases, it is also possible to obtain a punitive award.
Unlike compensatory damages, punitive damages are not intended to compensate victims for their losses but, rather, to punish the defendant for acting with a deliberate disregard for the rights of other people or with intentional disregard or knowledge that his or her actions were likely to cause injury. Punitive damages are also intended to prevent similar misconduct in the future.
Specifically, punitive damages may be available after a truck accident if the trucker was engaging in one of the following behaviors:
1. Driving While Impaired
Truckers who drive under the influence of drugs or alcohol are demonstrating a deliberate disregard for the rights, safety, and lives of others. Because they know their actions have a high probability of causing injury, they may have to pay punitive damages to anyone who ends up getting hurt.
2. Driving in an Especially Reckless Manner
Truckers have a duty to avoid distracted driving and to travel at a speed that's safe for the conditions. If a trucker checks social media on his or her mobile device while speeding—or otherwise displays particularly reckless behavior while behind the wheel—it warrant a punitive award.
3. Driving a Vehicle with Mechanical Issues
Commercial drivers are not necessarily expected to perform work on their vehicles while en route, but they are responsible for seeking service if they know about a potentially dangerous mechanical issue. If a trucker knowingly drives a vehicle with a mechanical problem such as faulty brakes and this leads to an accident, punitive damages may be warranted.
Call 800-770-7008 to Speak with a Truck Accident Lawyer in Minneapolis
At Bradshaw & Bryant, we understand the physical, emotional, and financial toll that a truck accident can take. If you were hurt in a wreck with a commercial vehicle, let us handle the logistics of your case so you can focus on your health. Call 800-770-7008 or use our Online Contact Form to set up a free consultation with a truck accident attorney in Minneapolis.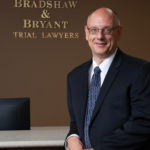 A founding partner with Bradshaw & Bryant, Mike Bryant has always fought to find justice for his clients—knowing that legal troubles, both personal injury and criminal, can be devastating for a family. Voted a Top 40 Personal Injury "Super Lawyer"  multiple years, Mr. Bryant has also been voted one of the Top 100 Minnesota  "Super Lawyers" four times.