This past week the numbers were released concerning wrongful deaths on Minnesota highways. According to the Star Tribune there were 497 deaths on Minnesota roads:
The 497 deaths marked an alarming jump from recent years and well above the average of 378 between 2016 and 2020.
This is the most deaths in 14 years. This means there are a lot of families in pain out there.
There are critical steps you should take and mistakes you must avoid to give your claim the best possible chance of success. Your first step is to contact a wrongful death lawyer who can handle the logistics of your case, negotiate with the opposing party, and help you avoid costly oversights that would derail your claim.
Planning a funeral is inherently stressful, and it's natural for families to argue while doing so because everyone handles emotional trauma differently. But if you and your loved ones intend to file a wrongful death claim, it's important that you work together.
Below are just a few mistakes that could harm your wrongful death case:
1. Giving a Public Statement
Depending on the circumstances of the incident, a member of your family may be asked to make a public statement. If the accident was reported on the news, for example, local media might reach out to you. As long as your family intends to take legal action, it's best to avoid making a public statement because there's no way to predict how it might affect the proceedings.
2. Waiting Too Long to Commence the Proceedings 
Although there's certainly a lot to do in the wake of losing a loved one, you should seek legal counsel as soon as possible so the investigation can begin right away. Important evidence might be time-sensitive, and there are strict time limits for filing wrongful death lawsuits. 
3. Failing to Designate a Family Representative 
In the state of Minnesota, various individuals are eligible to file a wrongful death suit. These parties include the deceased's surviving spouse, children, parents, grandparents, and siblings.
Because families in Minnesota do not have to go through a personal representative to file a wrongful death claim, multiple parties may feel inclined to correspond with the insurance adjuster directly. If they contradict one another—even inadvertently—this may harm your claim. As such, it's best to hire an attorney to serve as your family representative. 
4. Proceeding Without Legal Counsel 
Although it's possible to file a wrongful death claim without an attorney, it's wise to seek professional guidance when your family's financial security is at stake. A lawyer can conduct a thorough investigation, track the resulting damages, obtain evidence of liability, interview witnesses, and handle all correspondence with the opposing party.
If the insurance adjuster is uncooperative and you have to file a lawsuit, a seasoned trial attorney can represent your interests in court. Although most wrongful death claims are resolved before going to trial, there's always a chance that you could end up in front of a judge or jury, and if you do, having a skilled litigator by your side could prove invaluable. 
Call 800-770-7008 to Speak with a Wrongful Death Attorney in Minneapolis
If you recently lost a loved one in some kind of preventable accident, reach out to the compassionate personal injury lawyers at Bradshaw & Bryant to discuss your case. Call 800-770-7008 or use our Online Contact Form to set up a free consultation with a personal injury attorney in Minneapolis.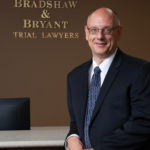 A founding partner with Bradshaw & Bryant, Mike Bryant has always fought to find justice for his clients—knowing that legal troubles, both personal injury and criminal, can be devastating for a family. Voted a Top 40 Personal Injury "Super Lawyer"  multiple years, Mr. Bryant has also been voted one of the Top 100 Minnesota  "Super Lawyers" four times.