A cancer diagnosis is traumatic not only for the patient but also for his or her family, friends, and community. When a person's life is at stake, all other concerns suddenly become insignificant. The experience can be immensely depressing for everyone involved. This is especially true when the diagnosis can be linked to a dangerous product that should never have been on the market in the first place.
Not long ago, a link was established between Roundup, a glyphosate-based weed killer developed by Monsanto, and certain types of cancer such as non-Hodgkin lymphoma. More than 8,000 product liability lawsuits have since been filed against Monsanto.
Read on to learn about the damages that might be recoverable in a product liability lawsuit filed in Minnesota:
1. Healthcare Expenses
All reasonable and necessary costs associated with treating the disease may be recoverable. Examples include:
• Diagnostic imaging;
• Surgeries;
• Prescription medication;
• Copays;
• Transportation to and from appointments;
• Medical equipment;
• Psychological counseling; and
• Home care.
Any anticipated costs for future medical care can also be included in the settlement calculations.
2. Lost Income
Cancer treatment can be invasive, so it's not uncommon for patients to miss a considerable amount of work. Fortunately, any wages lost as a result of a tortious injury or illness may be recoverable. Patients who are unable to return to work at all may be entitled to lost benefits and loss of future earnings.
3. Other Expenses
Personal injury plaintiffs have the right to seek compensation for any reasonable and necessary expenses incurred as a result of the tortious injury or illness. Examples may include:
• Child care;
• Domestic help; and
• Home and vehicle modifications needed to accommodate any new limitations.
4. Non-Economic Damages
Battling cancer is both physically and emotionally traumatic. Although the pain, suffering, and mental anguish that a patient experiences are intangible, they're every bit as devastating as the direct monetary losses. These non-economic damages can be included in the settlement calculations.
Depending on the circumstances, the spouse of the injured party may also be entitled to compensation for loss of companionship or consortium. This refers to the loss of love, affection, and support that the spouse suffers as a result of a tortious injury or illness.
5. Punitive Damages
Although punitive damages are rarely awarded in personal injury cases, they may be warranted in Monsanto Roundup cancer lawsuits. In one case, a federal judge awarded a cancer patient $5.27 million in compensatory damages, which include economic and non-economic damages, and an additional $20 million in punitive damages.
Call 800-770-7008 to Speak with a Personal Injury Attorney in Minneapolis
If you or someone you love was diagnosed with cancer following exposure to a glyphosate-containing weed killer, contact Bradshaw & Bryant to discuss your situation. Our attorneys have many years of experience litigating product liability cases, and we are well-versed in the nuances involved in Monsanto Roundup cancer lawsuits. Call 800-770-7008 or use our Online Contact Form to set up a free consultation with a personal injury lawyer in Minneapolis.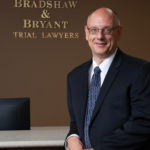 A founding partner with Bradshaw & Bryant, Mike Bryant has always fought to find justice for his clients—knowing that legal troubles, both personal injury and criminal, can be devastating for a family. Voted a Top 40 Personal Injury "Super Lawyer"  multiple years, Mr. Bryant has also been voted one of the Top 100 Minnesota  "Super Lawyers" four times.