This month, we will be looking at the issue of talking to the adjuster. It is not unusual for insurance companies to have specific adjusters who are hired to speak with unrepresented people. Clearly, this is being done to save the company money and minimize their liability.
If the adjuster is giving you advice concerning what coverages you have and what they mean, they are most likely giving you legal advice. Ask them if they are your lawyer in the case or if they are representing you. Ask them if every single coverage has been reviewed and if there are other policies you should be asking about. It is not unusual, through diligent investigation and knowledge of Minnesota law, to find that there are policies that they either did not tell you about or "simply forgot." The key may not be as much how they answer the question as much as if they answer the question.
If you, your family or someone you know is in an accident, it is worth taking the time to sit down and talk to an experienced law firm with success in helping people that are injured through no fault of their own. The consultations are free and it allows you to figure out what rights you have after an injury.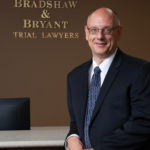 A founding partner with Bradshaw & Bryant, Mike Bryant has always fought to find justice for his clients—knowing that legal troubles, both personal injury and criminal, can be devastating for a family. Voted a Top 40 Personal Injury "Super Lawyer"  multiple years, Mr. Bryant has also been voted one of the Top 100 Minnesota  "Super Lawyers" four times.