The expenses that result from unanticipated injuries, like those sustained in a car accident, can add up fast. Fortunately, tort law recognizes as much and allows injured parties to take action against the parties that are liable for their damages.
Just because you were involved in a wreck, however, doesn't mean you're automatically entitled to compensation. Whether you have grounds for a claim will ultimately depend on the facts of the case.
To determine if your case may be worth pursuing, start by asking yourself the following questions:
1. Was Someone Else Responsible for the Accident?
Excluding wrecks caused by intentional misconduct or an auto part defect (strict liability might apply), car accident claims are generally founded on negligence. Characterized by a breach of a duty of care, negligence encompasses everything from driving while impaired to texting behind the wheel.
In order to have grounds for a third-party insurance claim, someone else must be to blame for the crash in which you were hurt, and your case must meet the serious injury threshold. If you played a minor role in the incident, that doesn't necessarily bar you from seeking compensation; however, it could reduce the total payout to which you are entitled under Minnesota's modified comparative fault law.
Under this law, the defendant's liability is reduced by the plaintiff's own percentage of fault. As long as you're not found more liable than the defendant, you may proceed with your claim.
2. Was I Seriously Hurt in the Accident?
If you sustained little more than bruises and scrapes in the accident, filing a claim won't yield much of a payout. If, on the other, you're facing a lengthy road to recovery, you may be entitled to compensation for all losses you will suffer as a result, which brings us to the third question.
3. Did I Incur Damages as a Direct Result of the Accident?
Every successful car accident claim includes sufficient evidence of damages. In Minnesota, recoverable damages might include:
• Medical bills;
• Home care;
• Replacement services;
• Lost wages;
• Loss of earning capacity;
• Property damage;
• Home and vehicle modifications;
• Pain and suffering;
• Mental anguish; and
• Loss of enjoyment of life.
You can use relevant bills, invoices, and receipts to demonstrate economic damages. As for demonstrating non-economic damages, car accident attorneys generally advise clients to start a personal injury journal. Writing about the daily struggles you're now facing will help contextualize the impact that the accident has had on your overall quality of life.
Minnesota also allows spouses of injured parties to pursue compensation for loss of consortium, which encompasses the loss of love, companionship, and affection they incur as a result of their husband or wife's injuries.
Discuss Your Case with a Car Accident Attorney in Minneapolis
To find out if you have grounds for a car accident claim, contact Bradshaw & Bryant. Call 800-770-7008 or fill out our Contact Form to schedule a free consultation with a car accident lawyer in Minneapolis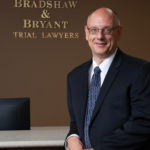 A founding partner with Bradshaw & Bryant, Mike Bryant has always fought to find justice for his clients—knowing that legal troubles, both personal injury and criminal, can be devastating for a family. Voted a Top 40 Personal Injury "Super Lawyer"  multiple years, Mr. Bryant has also been voted one of the Top 100 Minnesota  "Super Lawyers" four times.