Edina police arrested 476 drivers in 2017 for DUI.   The Minneapolis Tribune noted :
The Edina Police Department is one of the toughest law enforcement agencies in the state when it comes to drunken driving, with most of its arrests occurring along the freeways that thread through town, an analysis of last year's DWI data shows.
Those numbers are scary when you look around when you are on the road. 60% of the arrests took place on Highway 169, Highway 100 ,  or Crosstown  (Highway 62)   that is a lot of people drunk on Minnesota Highways.   The arrests the Tribune goes on to point out:
 When measured against the city's population, that number puts Edina's DWI arrest rate at twice that of its neighbor Bloomington and nearly seven times greater than that of Minneapolis.
Drunk driving is seeing a reduction, with a 40% drop as compared to 10 years ago. Unfortunately, there are still too many deaths and injuries that are tied to the drunk driving. These kinds of statistics are good reminders that more needs to be done.
The numbers suggest improvement and that law enforcement and maybe the legislature could go even further. The judiciary could be helpful by compiling the names of the bars that these people are drinking at.   It may also require another look at the joint and several laws. When the law was revised, bars were granted reduced liability when they serve a drunk and the drunk causes a tragedy. Let's see if even more can be done to make things safer.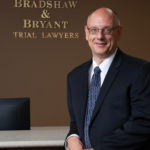 A founding partner with Bradshaw & Bryant, Mike Bryant has always fought to find justice for his clients—knowing that legal troubles, both personal injury and criminal, can be devastating for a family. Voted a Top 40 Personal Injury "Super Lawyer"  multiple years, Mr. Bryant has also been voted one of the Top 100 Minnesota  "Super Lawyers" four times.