A couple of stories caught my eye recently as they look at the interplay of Facebook and the court system,.
First, Ilya Somin at The Volokh Conspiracy, took at look at the ban on Florida judges friending lawyers and notes that many of the exact same things can happen in real life:
I can't understand the justification for a rule that bans essentially innocuous Facebook "friendships" but turns a blind eye to real friendships.
That's a very good point. I thought that at least with the internet there is a potential recording of what kind of exchange there has been. It seems like it's far more out in the open than a lawyer and judge getting together at a much smaller venue.
Then, I saw the Texas criminal case where a juror tried to friend a defendant during a trial. As a result, he was kicked off the jury and charged with contempt of court. Now let's look at it in the best light possible, that he saw it as a way to catch the defendant and prove him guilty, but even with that he's acting outside the clear instructions to do no outside investigation.
The court is getting better at making sure the jury know that they can't do anything with social media during the trial if it concerns any part of the trial. There have been too many trials that have been reversed or ruined because of this type of outside contact or information. The evidence needs to come in the courtroom.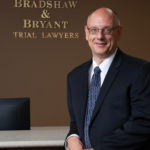 A founding partner with Bradshaw & Bryant, Mike Bryant has always fought to find justice for his clients—knowing that legal troubles, both personal injury and criminal, can be devastating for a family. Voted a Top 40 Personal Injury "Super Lawyer"  multiple years, Mr. Bryant has also been voted one of the Top 100 Minnesota  "Super Lawyers" four times.