Today the Ramsey County Attorney's office filed criminal charges against the Archdiocese of St. Paul and Minneapolis for "failing to protect children" from an abusive priest.  The charges arise from the actions of former priest Curtis Wehmeyer.
As reported by the Minneapolis Tribune:

    Today we are alleging a disturbing institutional and systemic pattern of behavior committed by the highest levels of leadership of the archdiocese of St. Paul and Minneapolis over the course of decades, said Ramsey County Attorney John Choi.
This is a historic action and  involves a County Attorney who has been tentative to this point in bringing claims.  As Jeff Anderson said today:
I have, in the past, been openly critical of the seeming inaction by the Ramsey County Attorney's Office and John Choi in not charging the Archdiocese officials pertaining to Curtis Wehmeyer and others, and expressed frustration over a seeming lack of vigor.  Today, I am praising the Ramsey County Attorney for taking this action.  It is evident that it took that office a long time to carefully develop the evidence and to conduct their own independent investigation, armed with the documents disgorged in civil litigation and the depositions taken of the top officials, by interviewing witnesses and developing a body of evidence that has supported a criminal complaint against the Archdiocese as a corporation.
Frank Meuers of Plymouth, Twin Cities SNAP (Survivor Network of those Abused by Priests) leader added:
We urge prosecutors to ask church officials for their passports so there's no chance they can flee overseas.

We dispute the notion that Catholic officials "turned a blind eye" to abuse. They did worse. They deliberately and repeatedly put and kept kids in harm's way by valuing their reputations and comfort and devaluing boys and girls. They engaged in active wrongdoing, not passive wrongdoing. These are smart men with smart lawyers and smart PR advisers. These were – and continue to be – cover ups, not "mistakes" or "failures."
This is hopefully a historic step forward for Survivors  and will be looked at by prosecutors around the world.  It will be interesting to see if it has implications on the bankruptcy that was files by the Archdiocese.
Abuse of children and the continued silence by the offenders needs to be prevented. If you suffered, saw, or suspected such events, it is important to know that there is help out there.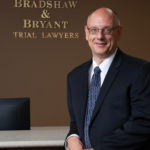 A founding partner with Bradshaw & Bryant, Mike Bryant has always fought to find justice for his clients—knowing that legal troubles, both personal injury and criminal, can be devastating for a family. Voted a Top 40 Personal Injury "Super Lawyer"  multiple years, Mr. Bryant has also been voted one of the Top 100 Minnesota  "Super Lawyers" four times.