Brain damage is one of the most devastating injuries you can sustain. Even minor head trauma has the potential to hinder cognitive function for the rest of your life.
Fortunately, those who get hurt through no fault of their own are usually entitled to compensation. Just because you have grounds for a claim, however, doesn't mean you're guaranteed a payout.
First, you're going to have to put together a strong case. That's means compiling lots of evidence of both liability and losses.
Along the way, you're also going to have to avoid making critical mistakes. Read on for some of the most common mistakes that could jeopardize your claim:
1. Seeking Support on Social Media
It's only natural to turn to your friends and followers online following something as traumatic as sustaining a brain injury. Since the insurance adjuster will probably take to monitoring your social media activity, though, it's best to reach out to loved ones via other means.
Should you post anything that prompts the opposing party to challenge your credibility—even something as innocuous as a photo of a dinner out with friends—your entire claim could crumble before it even gets off the ground.
2. Deferring to the Insurance Adjuster
No matter how sympathetic the insurance adjuster seems, it's important to remember that they're not on your side. Their primary goal, in fact, is in direct opposition with your own. Whereas they want to protect the carrier's bottom line, you want to secure enough compensation to maintain your standard of living.
Put another way, you can't rely on them to advocate for your best interests. A personal injury attorney, on the other hand, will fight for your rights every step of the way.
3. Overlooking Recoverable Losses
The damages associated with a brain injury can add up fast. Thankfully, they're virtually all recoverable—as long as you can prove you actually incurred them.
After evaluating the situation, a brain injury attorney can let you know precisely which records to keep. In the meantime, save anything at all that corresponds with your injury-related expenses. Examples include hospital bills, paystubs, invoices, and receipts.
4. Accepting a Premature Payout
In the aftermath of a serious accident, it's natural to fret about your financial security. Sadly, insurance carriers are not above taking advantage of this desperation.
Before accepting any kind of settlement, it's wise to consult with a strategic personal injury attorney. A knowledgeable lawyer will review the terms of the proposed agreement and let you know whether they're actually fair or they mean leaving money on the table.
Discuss Your Case with a Brain Injury Attorney in Minneapolis
If your life was forever changed because you suffered head trauma, turn to Bradshaw & Bryant for help holding the liable parties accountable. Our compassionate team knows how devastating brain injuries can be for the whole family. That's why we're committed to helping victims achieve justice. Call 800-770-7008 or fill out our Contact Form to set up a free case review with a brain injury lawyer in Minneapolis.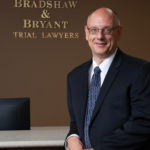 A founding partner with Bradshaw & Bryant, Mike Bryant has always fought to find justice for his clients—knowing that legal troubles, both personal injury and criminal, can be devastating for a family. Voted a Top 40 Personal Injury "Super Lawyer"  multiple years, Mr. Bryant has also been voted one of the Top 100 Minnesota  "Super Lawyers" four times.