Another shoe dropped at Penn State tonight. Joe Paterno was fired. 409 wins and two national championships all done. Why?
Injuryboard member, Joe Saunders, gives us the easy answer: It's the law.
Paterno Fired for Protecting Child Predator, Joe Saunders | November 10, 2011 1:32 AM
He needed to do more than he did when he found out.
Unfortunately, there are those that don't seem to get it. They see only a hero and a institution.
http://www.youtube.com/watch?v=C4I84Gy-cPI
There was no way that he could be allowed to even just play the string out. These events need to be fully investigated and everyone involved in the cover up needs to also be fired. The victims need to be heard and they need to see justice.
This is not a new problem and unfortunately it isn't one that is going away. Just like so many other institutions, it's time that zero tolerance become the only answer.
Abuse of children and the continued silence by the offenders needs to be prevented. If you suffered, saw, or suspected such events, it is important to know that there is help out there.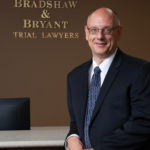 A founding partner with Bradshaw & Bryant, Mike Bryant has always fought to find justice for his clients—knowing that legal troubles, both personal injury and criminal, can be devastating for a family. Voted a Top 40 Personal Injury "Super Lawyer"  multiple years, Mr. Bryant has also been voted one of the Top 100 Minnesota  "Super Lawyers" four times.