Getting property damage paid after a car crash should be simple, but sometimes it's not. What if you have your own collision coverage, but the other driver caused the crash? You have some choices, so let's untangle this.
Admitted fault.  If the other driver is insured, and that insurance company admits 100% fault, that's often your best bet. Submitting to the at-fault insurer has several advantages:
There's no deductible to worry about at all.
They have to pay for a rental vehicle while yours is being repaired, or until they pay you if it's totaled.
Rental Warning-Be Careful! Insurers think you should buy a replacement car soon after they pay!  They'll fight paying if they think you have the rental car too long!
Personal property payment (for those broken golf clubs, baby seats OR ANYTHING ELSE DAMAGED IN THE CRASH).
Loss of use payment for work trucks and business vehicles
100% recovery of the reasonable repair replacement cost.
Disputed fault.  What happens when the other guys insurer won't admit 100% fault, or makes a lowball offer?  The law  requires the insurer to make a fair decision on fault, but sometimes it doesn't seem fair to you!  Too many insurers stick with the phony story "a driver gets 10% for being there", but when that happens, what can you do?
Lawsuit. If the claim is under $15,000, you can bring a claim in conciliation court (like small claims court), otherwise you could file a full-fledged lawsuit. But if you have injuries, a property damage suit is a bad idea!  You could lose your rights for compensation for your injuries!
Spouse or co-owner can sue.  If there is a spouse or other co-owner that was not injured in the car accident, they can safely bring the conciliation court property damage action in their own name.  As long as they are listed as an owner of the vehicle, they certainly have rights to bring the claim.
Use your own Collision Coverage. If you have  so-called "full coverage," with a lower deductible, that may be a better alternative than the low-ball offer from the other insurer. Even if you have a higher deductible, your company will try to get the money back.  If they get 50% or more back, they will pay you a refund of that same percentage of your deductible.
Arbitration.  If your own company makes a low-ball offer on your collision coverage, you can take their best offer, then file an arbitration with the AAA (American Arbitration Association) to force them to pay the difference!
This is part of a series of articles about What You Need to Know after a Car Crash.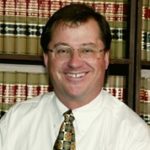 As a partner with Bradshaw & Bryant, Joe Crumley has over 30 years experience helping injured people and their families to secure just and fair compensation. Excelling in personal injury litigation, Mr. Crumley has secured numerous record-setting verdicts and settlements and won accolades such as MTLA's "Trial Lawyer of the Year" and "Excellence" Awards.