In most states, motorists are automatically responsible for any damages they cause. When a drunk driver strikes a pedestrian, for example, the pedestrian is entitled to file a third-party claim with the driver's insurance carrier in pursuit of financial compensation.
There are 12 states, however, that take a different approach, and Minnesota is one of them. In the North Star State, accident victims must typically seek compensation from their own carriers under the no-fault system.
That means if you were hurt in a wreck, you're likely going to have to file a claim with your auto insurer, even if you didn't contribute to the crash in any way. Should your claim prove valid, your carrier will compensate you out of your personal injury protection (PIP) coverage.
Minnesota requires all motorists to purchase at least $40,000 in PIP coverage per person per accident. Up to half of this coverage can go toward hospital bills, while the other half applies toward lost wages, replacement services, and other non-medical costs. PIP insurance also includes $5,000 for funeral and burial expenses in the event of death.
Motorists may purchase more than the minimum required amount of PIP coverage to ensure they're protected in most eventualities. There are some scenarios, however, in which you can bypass the state's no-fault system and seek compensation from the liable party. As such, many people opt not to increase their PIP caps. Instead, they're banking on third-party claims to bridge any gaps.
Before you can pursue a payout from the at-fault party, you're going to have to meet Minnesota's serious injury threshold. You will do so if the accident in which you were hurt resulted in:
• At least $4,000 in medical bills, excluding the cost of diagnostic imaging like x-rays or MRI scans;
• At least 60 days of missed work;
• Permanent injury; or
• Permanent scarring or disfigurement.
Car accidents that result in death also warrant third-party claims.
It's important to note, however, that even if you meet the serious injury threshold, you can only hold the at-fault party liable for damages that your own PIP insurance won't cover. That means you're going to have to max out your medical and non-medical benefits before you can seek compensation for any such losses from the at-fault party.
By filing a third-party claim, though, you may pursue additional damages that are not available in no-fault claims. For example, you may include non-economic damages like pain and suffering, mental anguish, and loss of enjoyment in life in the settlement negotiations. Additionally, your spouse may seek funds for loss of consortium.
Speak with a St. Cloud Car Accident Attorney
At Bradshaw & Bryant, we give every claim the attention it deserves. If you were seriously hurt in an auto wreck and your PIP insurance won't cover all the damages, we'll help you seek the compensation you deserve from the liable parties. Call 320-259-5414 or fill out our Contact Form to set up a free case review with a car accident lawyer in St. Cloud.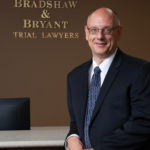 A founding partner with Bradshaw & Bryant, Mike Bryant has always fought to find justice for his clients—knowing that legal troubles, both personal injury and criminal, can be devastating for a family. Voted a Top 40 Personal Injury "Super Lawyer"  multiple years, Mr. Bryant has also been voted one of the Top 100 Minnesota  "Super Lawyers" four times.