If you were hurt in a large truck crash, you may be entitled to compensation for pain and suffering. Unlike hospital bills and lost wages, though, there are no receipts or records that can provide an objective valuation of such damages. While there's no universal formula for calculating a reasonable figure, there are two widely accepted methods for arriving at a starting point for the negotiations:
The Multiplier Method
To apply the multiplier method, you would have to calculate your total economic damages first. Examples include your medical expenses, lost income, vehicle repairs, and the cost of replacement services like child care, pet care, housekeeping, and meal preparation.
Once you determine your total monetary losses, multiply the figure by a number between 1.5 and 5. If your injuries are severe, you can justify using a higher multiplier. If, on the other hand, you're expected to make a full recovery within a matter of months, the insurance adjuster is unlikely to consider a multiplier higher than 2 or 3.
For example, let's assume your economic damages total $20,000. If you suffered bruises, lacerations, and broken bones but you don't expect to incur any permanent disabilities, using a factor of 2 may be appropriate. As such, you would multiply $20,000 by 2 to arrive at $40,000 for pain and suffering.
In other words, you would seek $20,000 in economic damages and $40,000 in pain and suffering damages for a combined total of $60,000. It's important to remember, however, that just because these figures seem reasonable to you doesn't mean the insurance adjuster will agree. At the end of the day, there are a number of factors that will influence the potential value of your claim.
The Per Diem Method
To apply the per diem method, your legal team will assign a dollar amount to each day you spend recovering. This amount is usually around $200 or a full day's wages.
If your injury lawyer thinks $200 is fair, for example, and it took you six months to reach maximum medical improvement (MMI), you would multiply $200 by 180 days to arrive at $36,000.
Remember: Regardless of which method you use to quantify pain and suffering, you'll have to provide sufficient evidence to support your claim. Such evidence might include:
• Daily journal entries detailing your recovery and the challenges you face as a result of your injuries;
• Deposition from friends, loved ones, and colleagues explaining the ways in which the injuries have affected your mood, demeanor, behavior, and capabilities;
• Proof of treatment by a mental health professional; and
• Medical records and photos that show the severity of your injuries.
Call 800-770-7008 to Discuss Your Case with a Minneapolis Truck Accident Attorney
At Bradshaw & Bryant, we understand the physical, emotional, and financial toll that catastrophic injuries can take on the whole family. If you or someone you love was hurt in a large truck crash, let us handle the logistics of your claim so you can focus on more important matters. Call 800-770-7008 or use our Online Contact Form to set up a free case evaluation with a truck accident lawyer in Minneapolis.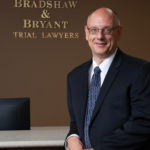 A founding partner with Bradshaw & Bryant, Mike Bryant has always fought to find justice for his clients—knowing that legal troubles, both personal injury and criminal, can be devastating for a family. Voted a Top 40 Personal Injury "Super Lawyer"  multiple years, Mr. Bryant has also been voted one of the Top 100 Minnesota  "Super Lawyers" four times.