As long as you're recovering from unanticipated injuries, it's natural to fret about your financial security. From hospital bills to missed work, the associated damages can add up fast.
Thankfully, the accident in which you were hurt may provide grounds for legal action. Should this be the case, you're probably wondering how long it will take to secure a payout, assuming your case is successful.
Since personal injury claims are inherently complex—and involve lots of variables—they tend to take quite some time to resolve. Even the most straightforward actions demand eight or nine months to settle, while more complex cases can take two years or more.
Let's explore the kinds of factors that could influence the total duration of your claim:
1. The Severity of Your Injuries
The more serious your injuries, the longer it's going to take to reach maximum medical improvement (MMI). Since you shouldn't conclude negotiations until you've reached MMI—otherwise, you could be leaving money on the table—your prognosis will have a direct impact on the duration of the proceedings.
2. The Number of Liable Parties
Every additional at-fault party adds a layer of complexity to your claim, and the more complex your case, the longer it's going to take to resolve. Each liable party demands their own investigation, for example, to determine the role that they played in the accident. And if these individual investigations don't yield enough evidence of fault, you're going to have to find other ways to assign blame, like collecting statements from relevant experts.
3. The Strength of the Evidence You Present
Generally speaking, stronger cases backed by lots of evidence are resolved more quickly than weaker ones that aren't because the opposing party wants to avoid the hassle of going to trial. Once they realize the claim will likely hold up in court, they're usually willing to cooperate during the settlement negotiations because it allows them to retain some sense of control over the proceedings.
In cases where the insurance adjuster believes the evidence is questionable, however, or the claimant's credibility ought to be challenged, negotiations tend to stall. When this happens, injured parties have no choice but to file a formal lawsuit.
Naturally, going to trial can extend the time it takes to secure a payout considerably. Not only do you have to navigate complex court proceedings, but you're at the mercy of the jurisdiction's caseload. If they happen to be backed up, it might be another year—or more—before the court can hear your case and issue a verdict.
Call 800-770-7008 to Discuss Your Case with a Minneapolis Personal Injury Attorney
If you want to file a personal injury claim in Minnesota, turn to Bradshaw & Bryant for guidance. Our compassionate team is comprised of skilled negotiators who don't let up until clients have secured every dollar they deserve. Call 800-770-7008 or complete our Online Contact Form to schedule a free case review with a personal injury lawyer in Minneapolis.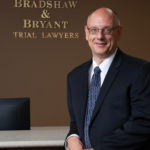 A founding partner with Bradshaw & Bryant, Mike Bryant has always fought to find justice for his clients—knowing that legal troubles, both personal injury and criminal, can be devastating for a family. Voted a Top 40 Personal Injury "Super Lawyer"  multiple years, Mr. Bryant has also been voted one of the Top 100 Minnesota  "Super Lawyers" four times.