Motorcycle accidents cost the United States billions of dollars each year in medical bills, emergency services, and property damage. Those who are injured in these cashes are often entitled to compensation for their healthcare expenses and other costs, but for such a claim to be successful, the injured party must be able to prove liability. This starts with gathering evidence at the scene.
Read on to learn a few tips for documenting the scene of a motorcycle wreck:
Call the Police
Police who respond to the scene will draft an accident report, which will serve as a critical piece of evidence during the subsequent claims process. Most major insurance providers will not process a claim without an official report. 
Look for Eyewitnesses 
While waiting for police to arrive, ask those who witnessed the crash for their names and phone numbers. Witnesses might include passing motorists, passengers, cyclists, pedestrians, and nearby shopkeepers. Ask them to include an official statement in the accident report. 
Photograph the Wreckage 
Once officers start directing traffic away from the scene, it should be safe to walk around and take photographs. Shoot your motorcycle and all the other vehicles involved from all angles. Capture both small and large details including skid marks, broken glass, deployed airbags, blood stains, the flow of nearby traffic, injuries, and the weather conditions. 
Exchange Information 
Get the other motorists' names, phone numbers, vehicle registration information, driver's license numbers, and insurance details. If they refuse to provide this information, officers may be able to obtain it for you. 
Write down Everything You Remember ASAP
Start a personal injury journal that same day if possible. Although you will primarily use this journal to document your recovery, the first few entries should be about the accident.
Write down everything you remember about the crash. No detail is too small to include. Then, record all the names and phone numbers that you gathered from eyewitnesses. Once all this information has been compiled in one place, you will not have to worry about keeping track of various scraps of paper or multiple notes on your phone.   
Call 800-770-7008 to Speak with a Motorcycle Accident Attorney in Minneapolis 
If you were hurt in a motorcycle accident, turn to the skilled personal injury lawyers at Bradshaw & Bryant. We are passionate about helping injured victims and their families pursue the justice and compensation they deserve.
Our attorneys have built a reputation on providing compassionate and aggressive representation. We prepare every claim for trial, even if a settlement is the expected outcome.
There's no charge for the initial consultation, and you won't have to pay any attorneys' fees unless we win your case through a settlement or trial verdict. Call 800-770-7008 or use our Online Contact Form to set up a free consultation with a motorcycle accident lawyer in Minneapolis.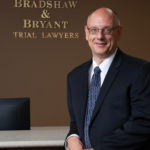 A founding partner with Bradshaw & Bryant, Mike Bryant has always fought to find justice for his clients—knowing that legal troubles, both personal injury and criminal, can be devastating for a family. Voted a Top 40 Personal Injury "Super Lawyer"  multiple years, Mr. Bryant has also been voted one of the Top 100 Minnesota  "Super Lawyers" four times.