Drowsy driving might not have the same stigma as drunk driving, but it can be just as dangerous. At the end of the day, sleep deprivation affects cognitive function in much the same way that alcohol does. Fatigue impairs focus, judgment, and reflexes so much, in fact, that getting behind the wheel after having been awake for 24 hours straight is comparable to driving with a BAC of 0.10.
Unlike drunk driving, though, there are no chemical tests to verify drowsy driving. As such, proving that someone fell asleep behind the wheel can be challenging. A resourceful attorney can help you gather all available evidence of liability, which may include:
Social Media Posts 
If the liable party's social media activity indicates he or she had been on the go for the 24 hours prior to the crash, such posts may be used to strengthen your claim. 
Eyewitness Testimony 
Depending on the circumstances surrounding the accident, nearby motorists, passengers, cyclists, shopkeepers, and/or pedestrians may have actually seen the driver nodding off prior to the wreck. Eyewitnesses may have also seen the vehicle drift or swerve in traffic, which can be indicative of drowsy driving.
Those who actually saw the crash—or the events leading up to it—can provide deposition that may strengthen your claim, so it's important to gather their names and phone numbers before leaving the scene so your personal injury attorney can follow up when building your case. 
The Police Report 
If the liable party admitted to police that he or she was drowsy, it should be noted in the official accident report. Even if there was no admission of fault, though, responding officers may have had reason to believe the motorist fell asleep behind the wheel and included their suspicions in the report. 
Video Footage 
If the collision occurred in a fairly developed area, it may have been captured by one or more surveillance cameras. And just before the wreck, the drowsy driver may have been captured dozing off. Dash cam footage could also be valuable when building your claim. Even if you don't have a camera in your vehicle, one of the nearby motorists might have had one in theirs. 
Discuss Your Case with a Car Accident Lawyer in Minneapolis 
If you were hurt in a collision with a drowsy driver, contact Bradshaw & Bryant to determine the most strategic way to proceed. We will gather all available evidence of liability and damages and will tirelessly fight for the settlement you deserve. With many years of litigation experience, our trial attorneys will relish the opportunity to take your case to court if the opposing party refuses to pay a fair settlement.
By letting us handle the logistics of your claim, you will be able to focus on your health without worrying about the legal complexities of your case. Call 800-770-7008 or use our Online Contact Form to set up a free case evaluation with a car accident attorney in Minneapolis.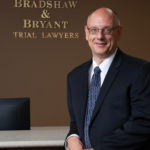 A founding partner with Bradshaw & Bryant, Mike Bryant has always fought to find justice for his clients—knowing that legal troubles, both personal injury and criminal, can be devastating for a family. Voted a Top 40 Personal Injury "Super Lawyer"  multiple years, Mr. Bryant has also been voted one of the Top 100 Minnesota  "Super Lawyers" four times.