A brain injury can derail virtually every aspect of your life, from your personal relationships to your professional capacities. If you were hurt through no fault of your own, though, you may be entitled to compensation for all resulting damages.
In Minnesota, accident victims who sustain head trauma may be entitled to seek compensation for the following:
1. Medical Expenses
Brain injuries can cost hundreds of thousands of dollars—or more—to stabilize, diagnose, and rehabilitate. If you can prove that another party is liable for your injury, though, all associated medical expenses may be recoverable, including the costs of:
• Emergency care;
• Diagnostic imaging;
• Prescription medication;
• Physical therapy;
• Occupational therapy;
• Home care;
• Medical equipment; and
• Anticipated surgeries.
2. Lost Earnings
Personal injury claimants may seek compensation for the wages they lose while they're out of work. If your brain injury is so severe that it prevents you from returning to the workforce even after reaching maximum medical improvement, you may also pursue funds for lost earning capacity. Your legal team can consult industry experts and economists to determine how much you would have made over the course of your career so you have a starting point for the negotiations.
3. Other Objectively Calculable Losses
Those who sustain brain injuries often need help with housekeeping, meal preparation, and other domestic duties. They may also have to modify their home and vehicle to accommodate any permanent limitations. Fortunately, all such expenditures may be recoverable as long as they're reasonably necessary.
4. Non-Economic Damages
Brain damage can seriously impact your overall quality of life. While pain and suffering, mental anguish, and loss of enjoyment are intangible, they're every bit as real as medical expenses and lost wages. As such, they may be recoverable in the state of Minnesota.
Your personal injury attorney can use journal entries; deposition from mental health professionals; and statements from friends, loved ones, and colleagues to demonstrate the extent of your non-economic damages.
5. Punitive Damages
Most brain injury claims do not warrant punitive damages. If the defendant's conduct constituted a deliberate disregard for your rights, health, or safety, however, you may be able to seek a punitive award in addition to the standard compensatory damages.
6. Loss of Consortium
If you happen to be married, your spouse may have grounds for a loss of consortium claim. Loss of consortium encompasses the loss of love, companionship, affection, and sexual relations that he or she will incur as a result of your brain injury. While the outcome of this claim will depend on the outcome of your own action, your spouse must be the one to bring it against the opposing party.
Call 800-770-7008 for a Free Consultation with a Minneapolis Brain Injury Lawyer
If you are living with a brain injury because someone failed to act with reasonable care, turn to Bradshaw & Bryant. We understand the physical, emotional, and financial stress that cognitive damage can place on you and your loved ones. Call 800-770-7008 or fill out our Contact Form to schedule a free consultation with a brain injury attorney in Minneapolis.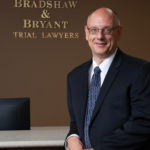 A founding partner with Bradshaw & Bryant, Mike Bryant has always fought to find justice for his clients—knowing that legal troubles, both personal injury and criminal, can be devastating for a family. Voted a Top 40 Personal Injury "Super Lawyer"  multiple years, Mr. Bryant has also been voted one of the Top 100 Minnesota  "Super Lawyers" four times.