It has been very sad to see the changing government in Wisconsin dismantle the many consumer protections that existed for Wisconsin residents. But, if big business puts you in office , I guess the consumers don't matter much.
It now looks like they are going after the post judgment interest. This is the interest that the defendant must pay if they don't take care of a payment after a jury verdict. A high interest rate discourages frivolous appeals and makes it harder for defendants to drag their feet.
Apparently there is a bill that that would change the law from the current rate of 12% to prime rate plus 1%, or 4.25% currently. But let's add the kick in the pants:
But banks, landlords and credit card companies that successfully sue people would still get the full 12%.
Did you question my earlier comment about who these new people represent?
As my partner Joe Crumley, pointed out when he saw this:
If we should dare propose a law so one-sided, the cry of "Class Warfare" would ring out.
Ladies and Gentlemen, class warfare it is: Against us and individuals by corporate power and right wing politics!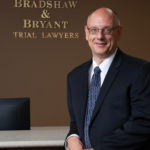 A founding partner with Bradshaw & Bryant, Mike Bryant has always fought to find justice for his clients—knowing that legal troubles, both personal injury and criminal, can be devastating for a family. Voted a Top 40 Personal Injury "Super Lawyer"  multiple years, Mr. Bryant has also been voted one of the Top 100 Minnesota  "Super Lawyers" four times.