Not sure where you are, but depending if you are in Northern vs Southern Minnesota you are looking at a very different show landscape. It's important to enjoy the day. It's an extra one.
From Time and date.com:
'Leap Day' is February 29, which is an extra (intercalary) day added during a Leap Year, making the year 366 days long – and not 365 days, like a common (normal) year. Nearly every 4 years is a Leap Year in our modern Gregorian Calendar.

Ever since Leap Years were first introduced over 2000 years ago with the transition from the Roman Calendar to the Julian Calendar in 45 BCE (Before Common Era), Leap Day has been associated with age-old Leap Day traditions and folklore.
What will you do with the extra day? I really liked the idea from 30 Rock and Leap Day Williams:
It's the day to do anything.
Doubt it will get there for everyone. But, if nothing else it's a great day to stop and enjoy a day we don't often get.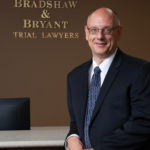 A founding partner with Bradshaw & Bryant, Mike Bryant has always fought to find justice for his clients—knowing that legal troubles, both personal injury and criminal, can be devastating for a family. Voted a Top 40 Personal Injury "Super Lawyer"  multiple years, Mr. Bryant has also been voted one of the Top 100 Minnesota  "Super Lawyers" four times.