Seems like everywhere I look someone is playing Pokemon Go.  There are people rushing around and not paying attention as they walk,  drive,  and GOTTA CATCH THEM ALL.  Ever parent needs to keep an eye on what their children are doing. I came across a couple of great reviews of the dangers I thought were important to pass along:
Just before 0200 hours this morning, we received a 9-1-1 from Circle K at Hwy K and Feise Road for an Armed Robbery. The victim, a pedestrian nearby on Feise Road, described four occupants of a black BMW. A responding officer observed a similarly occupied BMW southbound on Hwy K leaving the area of occurrence. The officer stopped the BMW on the CVS lot at Routes K and N, where an occupant tried to discard a handgun out of the vehicle. Four suspects were identified, and taken into custody. Further investigation revealed that there have been similar armed robberies in St. Louis City, County, and St. Charles County MO over the last couple of days with a similar vehicle being described by other victims. The suspects were using a newly released "Pokemon Go" app released in the United States on Wednesday. Pokemon, or Pocket Monsters, is a video game and TV series that allows people to catch, collect and train animated creatures of all shapes and sizes to win battles against other trainers.
"There have been pedestrians struck, vehicle accidents, and personal injuries due to falls," the Park Ridge Police Department in New Jersey wrote on its Facebook page. "Around Park Ridge, we have also seen large groups congregating near busy roadways, while on their devices playing the game."
From Daily Mail :
One element of the game sees users putting a 'lure' on a certain area, which causes Pokemon to appear in that position, attracting gamers to the area.

Fearful of where this could lead, one woman carried out an 'experiment', which saw her post a 'lure' to see how many people turned up. Within moments, several children had arrived at the chosen – most without parents – having ignored their usual 'stranger danger' radar in pursuit of the monster.

'It occurs to me that someone could use this for nefarious purposes', the user known as Robin wrote.

'There's a sense of camaraderie that is built up around this game. The kid I just played with definitely lost his stranger danger sense.'
As always the key is making sure that safety is being kept in mind.
As for me?   I am blocked out because my Blackberry isn't running the app.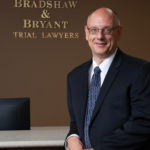 A founding partner with Bradshaw & Bryant, Mike Bryant has always fought to find justice for his clients—knowing that legal troubles, both personal injury and criminal, can be devastating for a family. Voted a Top 40 Personal Injury "Super Lawyer"  multiple years, Mr. Bryant has also been voted one of the Top 100 Minnesota  "Super Lawyers" four times.