Several lawsuits have been filed against the agrochemical company Monsanto alleging that one of its most popular herbicides, Roundup, causes cancer. Specifically, the glyphosate within Roundup has been tied to the development of non-Hodgkin lymphoma.
Although the Environmental Protection Agency has claimed glyphosate is "not likely" to cause cancer, the World Health Organization has deemed it a probable carcinogen. While this doesn't mean that everyone who has used Roundup will develop cancer, there are certain individuals who may be at a higher risk due to being regularly exposed to the herbicide.
Below we've listed a few types of people who might be at an especially high risk:
1. Landscapers
Professional landscapers are likely to use herbicide on a routine basis. Even on days when they're not spraying weed killer, they may still be exposed to glyphosate. Because research indicates a link between extensive exposure to glyphosate and non-Hodgkin lymphoma, those who have worked in landscaping for several months or years might be at a higher risk of developing glyphosate-related cancer.
2. Farmers
Some farmers may be exposed to as much or more glyphosate than landscapers. As recently as 2017, the National Wheat Foundation was reassuring wheat growers that when used as directed, Roundup does not pose a health risk. Unfortunately, research conducted since—and all kinds of anecdotal evidence that has surfaced—seems to indicate otherwise.
3. Homeowners
The average homeowner is unlikely to use enough Roundup to face a serious risk of developing cancer. If you have a massive yard, however, and you've been maintaining it for years with the help of a glyphosate-containing weed killer, you could be at a higher risk for non-Hodgkin lymphoma.
4. Athletes
It's reasonable to assume that schools and sports organizations apply lots of weed killer to maintain their fields. As such, athletes may be exposed to Roundup on a fairly consistent basis.
This is especially true for golfers, who traipse around the manicured greens for hours. While the landscapers who maintain the grounds are probably at a higher risk, it's not unreasonable to assume that golfers who frequent the fairways might also have cause for concern.
It's important to remember that the populations listed above aren't the only ones vulnerable to potential glyphosate-related cancer. These categories just happen to encompass some of the individuals who are likely to experience prolonged exposure to glyphosate. In other words, even if you're not part of one of these populations, you may still have grounds for a lawsuit against Monsanto if you are diagnosed with cancer after being exposed to Roundup.
Call 800-770-7008 for a Free Consultation with a Minneapolis Personal Injury Attorney
If you or someone you love was diagnosed with cancer and you think Roundup could be to blame, contact Bradshaw & Bryant. We will conduct a thorough investigation, gather evidence of exposure, track damages, and help your family pursue the maximum settlement or verdict. Call 800-770-7008 or use our Online Contact Form to set up a free consultation with a personal injury lawyer in Minneapolis.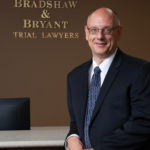 A founding partner with Bradshaw & Bryant, Mike Bryant has always fought to find justice for his clients—knowing that legal troubles, both personal injury and criminal, can be devastating for a family. Voted a Top 40 Personal Injury "Super Lawyer"  multiple years, Mr. Bryant has also been voted one of the Top 100 Minnesota  "Super Lawyers" four times.