Some of the world's most popular pesticides have been linked to the development of cancers like non-Hodgkin lymphoma (NHL). Monsanto's Roundup, in particular, has been the focus of several lawsuits over recent months.
The Roundup formula contains glyphosate, which has been categorized as a probable carcinogen by the World Health Organization (WHO). In one study, scientists found that exposure to glyphosate increased the risk of NHL by 41 percent.
Roundup also contains surfactants, which facilitate the absorption of glyphosate. Research indicates that any exposure to glyphosate, including contacting, inhaling, and ingesting it, can be dangerous.
Glyphosate Has Been Linked to Several Kinds of Cancer
WHO research suggests that Roundup's particular formula of glyphosate and surfactants can damage DNA in such a way that it increases the likelihood of developing tumors in general and NHL specifically. NHL refers to cancer that starts in the lymphocytes, which are the body's white blood cells. There are several different kinds of NHL, so the prognosis and the most effective approach to treatment depend on the circumstances.
Factors that influence a patient's prognosis include the type of lymphocyte that has been affected, how mature the cells were when they first became cancerous, and whether the condition has metastasized. While every case is different, the overall five-year relative survival rate for those who are diagnosed with NHL is 71 percent.
How to Prove Liability in a Monsanto Roundup Cancer Lawsuit
If you or someone you love has been diagnosed with non-Hodgkin lymphoma after several years of exposure to Roundup, you may have grounds for a product liability claim against Monsanto. There are, however, several elements that must be proven in order to recover a settlement or verdict. Specifically, there must be sufficient evidence to demonstrate that you or your family member was exposed to Roundup (or another glyphosate-containing herbicide) for at least eight hours per year for at least two years.
Even if this criterion has been met, you may still face a dispute if you or your loved one was exposed to other agents or illnesses that could have caused the cancer. For example, Monsanto will likely challenge your claim if you or your loved one had been exposed to prior radiation or chemotherapy, Agent Orange, certain chemicals, or tobacco.
The easiest way to find out if your case has merit is to speak with a product liability attorney who is familiar with the case law and statutes pertaining to Monsanto Roundup cancer lawsuits. Fortunately, most product liability lawyers offer free consultations and accept cases on a contingency fee basis.
Discuss Your Case with a Personal Injury Attorney in Minneapolis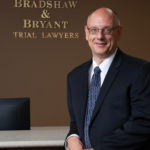 A founding partner with Bradshaw & Bryant, Mike Bryant has always fought to find justice for his clients—knowing that legal troubles, both personal injury and criminal, can be devastating for a family. Voted a Top 40 Personal Injury "Super Lawyer"  multiple years, Mr. Bryant has also been voted one of the Top 100 Minnesota  "Super Lawyers" four times.