Not just a day off.   Not just hamburgers, hot dogs and picnics.   It is so much more
It's Memorial Day.    Thank You to every solider that has served this country and to all those that continue the work today. It is a day to salute and thank each and every one of you. Started as a day that was to commemorate the Civil War, over time it grew into a national holiday and now covers all those that have served in the armed forces.
With out the intent to single anyone out it is worth pointing out a number of articles worth reading out there:
Remembering PFC Lewis R. G. Dorsey, Memorial Day 2009
My Partner, Joe Crumley's D-Day Tribute.
Honor Our Service Men and Women on Memorial Day (2013), Brett Emison

May 27, 2013



Honor Our Service Men and Women On Memorial Day (2011),

Brett Emison

|

May 30, 2011

Lawsuit Financial Offers These Safety Tips for the Memorial Day Weekend,

Mark Bello

|

May 21, 2015

Who Thought About You This Memorial Day?

J.R. Whaley

|

May 25, 2015

Baton Rouge, LA
I know that there are many more. I may spend some of the day finding them. Hopefully, everyone will take a little time to read one or two and reflect on the sacrifices that have been made to protect us.
THANK YOU!!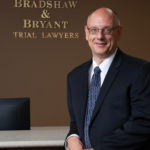 A founding partner with Bradshaw & Bryant, Mike Bryant has always fought to find justice for his clients—knowing that legal troubles, both personal injury and criminal, can be devastating for a family. Voted a Top 40 Personal Injury "Super Lawyer"  multiple years, Mr. Bryant has also been voted one of the Top 100 Minnesota  "Super Lawyers" four times.