It's not unusual to have potential clients who talk to us about claims saying "we aren't like that" or "we aren't that kind of people". It's hard not to respond with "why are you talking to me?". Because, by their definition, I do represent people like that. The thing is that as soon as you drill down into what they are saying you find some common themes:
There are too many lawsuits.
Most cases are fake.
Everyone wants to sue everyone else.
The insurance propaganda has really worked with them because there isn't any real evidence that suggests any of these three are true. Mainly, because I couldn't run my business with fake cases. Lawsuits cost the lawyer a lot of money up front, so you need to look hard at each case. Empirically, while bankruptcies, business lawsuits, and criminal matters are up, personal injury lawsuits remain steady and are shrinking in many court studies. Things are safer and less people are killed on the roads because of safer products.
These attitudes are what insurance companies want with the jury. They want to sell more insurance. But, the big payoff comes when these people are injured. If they think it's bad to make a claim , they will not make one. The company adjusters don't need to tell them about all of their benefits and the wrongdoers get off scott free.
I really do my best to not get mad. I also haven't seen it make much difference if you spend time confronting the issues head on. Mostly, it helps to point out all of the things they are there to talk about:
The coverages that the adjuster didn't tell them about
That the defendants rates went up with the property damage claim, so the damage to the defendant has already been done.
That there are thresholds in Minnesota that need to be reached to make a claim and that is why they are being cut off early.
How the statement that they gave to the adjuster is being used against them.
Dealing with the little myths like everyone is at least 10% at fault.
Some of these people. I do wonder if I really want to represent them. My guess is that they would kill my client if they were on the jury. But, my hope is that when they see a lawyer and an office that really does this work, they will realize that there really is a lot more to what I'm trying to show them, that this is a system where they need someone who will protect their rights and make sure they get helped and not as a nightmare.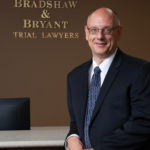 A founding partner with Bradshaw & Bryant, Mike Bryant has always fought to find justice for his clients—knowing that legal troubles, both personal injury and criminal, can be devastating for a family. Voted a Top 40 Personal Injury "Super Lawyer"  multiple years, Mr. Bryant has also been voted one of the Top 100 Minnesota  "Super Lawyers" four times.