The stories are crazy from the last couple of Black Fridays, as people fought over places in line and acted like animals. Thankfully, there weren't any Walmart deaths last year.
I won't be up Thursday/Friday am , but I expect my wife and oldest son will be out and about. They've had fun with the very long lines and no issues even in below zero weather.
To help keep everyone safe Best Buy put out these tips:
· Prepare for the Elements – Being the first in line might mean 24 to 48 hours before the store opens, which means sleeping on the sidewalk. Be prepared and treat it like an urban camping trip. Bring a tent, chairs, sleeping bags, blankets, flashlights – literally anything needed for camping. If camping above the Mason Dixon line, think about bringing along hand warmers and foot warmers. Check the weather ahead of time.

· Stay Entertained – This is where people can get really elaborate. Yes, be sure to bring your MP3 player, laptop, smartphone, Nintendo DS, eReader or whatever needed to keep entertained. Best Buy has seen some pretty amazing setups with big screen TVs and gaming systems. We've even seen people set up a traditional Thanksgiving dinner.

· Etiquette – After hours or days in line with total strangers, you will discover that civility is extremely important. There is a certain etiquette you should follow to make it as pleasant as possible.

If holding a place in line for someone else, let line-mates know ahead of time, so no one is surprised when the entire extended family shows up an hour before the store opens. Remember, people count heads before they decide to join the line.

If needing to leave the line, make sure to tell line-mates when you are coming back.

If making a coffee or food run, offer to pick something up for fellow best friends in line. It fosters good will, and more importantly, they'll most likely return the favor later.

Most importantly, when the doors do finally open, stay calm. Try to be patient and understanding with fellow customers and the store employees. With so much anticipation for that moment, it's easy to throw all that goodwill out the window.

Read the fine print – Big door buster items will have limited quantities, so get in line early. Black Friday ads should indicate the quantity guaranteed to be in stock. The best retailers to hit are the ones who pass out tickets (like Best Buy does), so consumers don't have to stress out once the doors open. Also, be sure to read those coupons carefully. Some of them are only valid for certain hours or for very specific items. Because some restrictions almost always apply.

Get the app – With the Best Buy mobile app, create a holiday wish list from a smart phone to share with friends and family. For the iPhone and Android, this free app enhances the shopping experience and allows users to compare products and even scan in-store product QR bar codes to unlock special offers and tailored content. Shoppers also can download the new Shopkick app, which provides rewards such as "Kickbucks" redeemable for Best Buy gift certificates, just by coming into the store.

Free online shipping – Bypass the lines and shop Best Buy from the comfort of home. With free online ground shipping through Dec. 21 on hundreds of thousands of items, including all Blu-Ray, DVD movies and gaming software.

Free advice – Best Buy will have 4,000 agents manning the phones on Black Friday to answer questions big and small. All it takes is a quick phone call to 1-888-BEST-BUY (1-888-237-8289. Geek Squad also is offering free phone and online support now through New Year's, even on Christmas Day. Geek Squad is available via phone at 1-800-GEEK-SQUAD (1-800-433-5778) and online at geeksquad.com.
While they have tailored much of the list to buying items through Best Buy, it's clear that the more that goes into thinking about making Black Friday safer, the better off all of the shoppers will be. I think I will continue to sleep in and check in after daylight.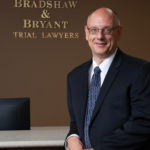 A founding partner with Bradshaw & Bryant, Mike Bryant has always fought to find justice for his clients—knowing that legal troubles, both personal injury and criminal, can be devastating for a family. Voted a Top 40 Personal Injury "Super Lawyer"  multiple years, Mr. Bryant has also been voted one of the Top 100 Minnesota  "Super Lawyers" four times.