Another escaped rodeo bull has caused serious injuries in Minnesota,  reports the Star Tribune.  A Rice Rodeo bull escaped from its corral at the  rodeo at the Dakota County Fairgrounds in Farmington, Minnesota, injuring eight people.  This incident is similar to a case I handled several years ago.
In both cases, a large rodeo bull trained for bull-riding escaped its pen and injured several people.
Dakota County Sheriff Dave Bellows said one woman, who had a head wound and other injuries, was taken by helicopter to Hennepin County Medical Center…

The incident began about 8:15 p.m. during a bull-riding event at the fairgrounds in Farmington when the bull got out of a pen located on the east side of the fairgrounds and ran, the sheriff said.

At one point, it ran toward a deputy, who used his handgun to fire two bullets into the bull, which was estimated to weigh between 1,200 and 1,600 pounds. The deputy was slightly injured, Bellows said.

"The bull was on the loose for approximately 10 to 15 minutes, was eventually rounded up or captured by staff from the rodeo, and put back in its pen," he said.

The event was sponsored by Rice Rodeo and the bull was owned by Gold Medal Cattle Co. of Merrill, Wis.
The Pioneer Press reported that another bull had escaped just five days ago:
Megan Schuette, who attended the Washington County Fair last weekend, said a bull escaped the pens there during an event Friday put on by the same company, though no one was injured.

"One of the bull riders fell off, got pissed, and slammed the gate when he went out. It didn't latch. The bull went right out the gate," Schuette said, adding that Friday's event was part of Rice's "Hell on Hooves" tour.
These recent events are reminiscent of a case I handled in Northern Minnesota some years back.  In that case, a Buffington Rodeo Company  bull escaped from the Koochiching County Fair after hours, and disappeared for many days.  In that case, a fence  expert found a poorly designed gate led to the bull's escape.
Unlike the current case, the Koochiching County bull did no immediate damage, and the rodeo left town after a search for the bull was unsuccessful.  Days later, a horrible crash occurred.  The black bull was struck by a car late at night on a dark highway nearby.  The impact tore the roof off the car, killing the driver and his young son, and seriously injuring his wife.
Investigation will be crucial in determining the cause of the Dakota County escape.  It is crucial for owners of dangerous animals such as rodeo bulls to take substantial precautions to protect the public.  These bulls are bred for size, strength, agility and aggressiveness, which makes them more entertaining during bull-riding events.  These same attributes make them incredibly dangerous to members of the public.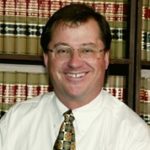 As a partner with Bradshaw & Bryant, Joe Crumley has over 20 years experience with the firm—helping injured people and their families to secure just and fair compensation. Excelling in personal injury litigation, Mr. Crumley has secured numerous record-setting verdicts and settlements and won accolades such as MTLA's "Trial Lawyer of the Year" and "Excellence" Awards.