Minnesota is a no-fault automobile state. This means that when you are in a collision there are basic benefits of medical bills, wage loss, medical mileage and replacement services that will be covered by your own car insurance policy. The no-fault benefits goes back to a deal from the 1970s where insurance companies got tort thresholds (items proving a severe enough injury to bring a personal injury claim) in return for guaranteeing that they would provide no-fault coverage. Using your no-fault benefits does not raise your insurance rates and should be a relatively easy and fast system.
This month we have looked at some of the many ways we have seen people get denied the benefits they paid for. I'm sure we will be back with more in the future. But for now, keep in mind you need to protect you and your family when you are in a collision.
If you are in a motor vehicle collision in Minnesota, you need to notify your insurance agent in order to start the no-fault process. If you have questions, you should talk to an attorney who is experienced in handling these types of injuries.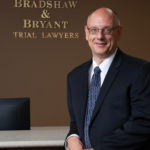 A founding partner with Bradshaw & Bryant, Mike Bryant has always fought to find justice for his clients—knowing that legal troubles, both personal injury and criminal, can be devastating for a family. Voted a Top 40 Personal Injury "Super Lawyer"  multiple years, Mr. Bryant has also been voted one of the Top 100 Minnesota  "Super Lawyers" four times.