Over time we have represented a lot of people for all types of automobile collisions. My partner Joe Crumley and I have taught seminars for the Minnesota Association For Justice concerning all sorts of insurance and personal injury issues. Joe and I have authored a number of articles on the topic. Even with that, we still see cases that test the knowledge of even the most most experienced attorneys. The key is being aware and asking the right questions. A couple of stories caught my eye:
The second week of December, a Fargo woman was killed in Moorhead when her car was hit by a fuel tanker truck. Information from the Minnesota Department of Transportation indicates that there have been about 40 accidents and six deaths at the intersection of Highway 75 and County Road 12 in the past 20 years. What needs to be done with this intersection? Maybe nothing, but it should be investigated. Minnesota law would apply and all involved have no-fault coverages available. Liability would need to be determined between the two vehicles.
Each of these cases involve injures, some of which were fatal. We send out our sympathy to everyone involved and don't intend to lessen the loss by using their tragedy as an example. Each case needs to be looked at individually. There really isn't a simple straight forward case. Sure the fast draw insurance adjuster will call and try to steer things in that direction. They may offer fast and cheap money. There will even be a group of lawyers that will handle it that way.
The right questions always need to be asked and most importantly answered. I will be looking at many of these issues during the coming months and hope that anyone who has questions, takes the time to ask.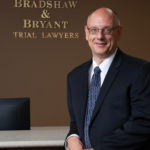 A founding partner with Bradshaw & Bryant, Mike Bryant has always fought to find justice for his clients—knowing that legal troubles, both personal injury and criminal, can be devastating for a family. Voted a Top 40 Personal Injury "Super Lawyer"  multiple years, Mr. Bryant has also been voted one of the Top 100 Minnesota  "Super Lawyers" four times.