Recent oil-train explosions like the one in Casselton, North Dakota, have started creating worry and doubt that the tankers on our railways are safe. It was reported that within a 6 month period of time, 4 derailments occurred, which has brought about concern regarding the safety of the tankers. These accidents have sparked an increased interest in whether or not the use of the older tankers are safe.
As stated in the Seattle Times, "Most of the nation's 94,000 rail tankers, which are carrying ethanol, oil and other flammables, do not meet puncture-resistance and other standards that apply to the new tankers". If this is true, then why are they still allowed on our railways?
Some of these railways pass right through towns, concerning those who live there of the possibilities of explosions in the middle of their cities. These concerns are very real and the fact that derailments and explosions have happened in the past is proof of just how dangerous the situation is. Considering all the risks that come along with allowing these tankers to continue to run on the railways such as pollution and the overall safety of the workers; perhaps now would be a good time to take the updating of these tankers seriously before more injuries or deaths occur.
It's understood that there is cost and time involved in updating these older tankers, but if it means less injuries for the workers, safer working environments, and safety for the communities these railways are passing through; there should be no question on whether or not to go forward with these changes.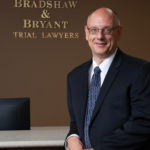 A founding partner with Bradshaw & Bryant, Mike Bryant has always fought to find justice for his clients—knowing that legal troubles, both personal injury and criminal, can be devastating for a family. Voted a Top 40 Personal Injury "Super Lawyer"  multiple years, Mr. Bryant has also been voted one of the Top 100 Minnesota  "Super Lawyers" four times.