I grew up in Rhode Island so I was a WWF fan and would only see "Southern Wrestling"  in the magazines.   Later in life,  I picked up a DVD of Dusty Rhodes matches and promos.  A promo is what wrestlers are doing when they are selling a match.   I was in awe.
Dusty was the common man.    He spoke to the regular person in a way that every personal injury lawyer should.   He was a amazing orator, that I have since spent many hours listening to.  I don't wrestling watch much anymore,  so I have no idea how much he was still on.  But,  I will continue to take the time to listen to his words and hopefully learn from them.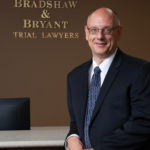 A founding partner with Bradshaw & Bryant, Mike Bryant has always fought to find justice for his clients—knowing that legal troubles, both personal injury and criminal, can be devastating for a family. Voted a Top 40 Personal Injury "Super Lawyer"  multiple years, Mr. Bryant has also been voted one of the Top 100 Minnesota  "Super Lawyers" four times.