It's the hot season here in Minnesota, so many people are taking to our many lakes. Great time for water skiing, swimming and fishing. It's even fun to just float around on the waves. But, it's also a time to be safe.
The water patrols have used 'Operation Dry Water' an effort across the country to cut down on drinking and boating. In Minnesota the legal limit is 0.08 and first offenders can be fined $1,000 and go to jail. "We're seeing more and more of these where everyone's having a good time and drinking, but they're skiing and they turn around to pick up a falling skier and they'll run right into the skier," said Jeff Dauterman, a recreation safety warden with the DNR.
Most deaths among boaters are caused by falls overboard and capsizing, says Beltrami County Sheriff Phil Hodapp. In a small boat, a boater has to resist the urge to stand up. Those who must move around should keep their weight low and close to the center of the boat. And, it should go without saying that a boater should wear their personal flotation device. "Wearing your PFD is the best life insurance policy afloat," the sheriff said.
To be prepared take some time and take the Boat safety course and exam. Also make sure to review the Minnesota Boating Guide. The water can be fun , but as many of my fellow Legal Examiner members have pointed out, it can be deadly.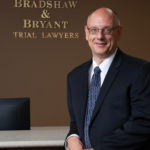 A founding partner with Bradshaw & Bryant, Mike Bryant has always fought to find justice for his clients—knowing that legal troubles, both personal injury and criminal, can be devastating for a family. Voted a Top 40 Personal Injury "Super Lawyer"  multiple years, Mr. Bryant has also been voted one of the Top 100 Minnesota  "Super Lawyers" four times.