It is  Martin Luther King Jr. Day. The courts would usually be closed, no mail , and for some a day off.   This year the courts are closed for trials until after February due to Covid  and are overall closed for concerns about violence.  What would he think of where we are now?
It will be a day to read or hear the "I Have A Dream " speech. To think about it's meaning.
https://www.npr.org/2010/01/18/122701268/i-have-a-dream-speech-in-its-entirety
For me it is a reminder about what we do is Justice.
Injustice anywhere is a threat to justice everywhere.

Martin Luther King Jr., Letter from Birmingham Jail, April 16, 1963
US black civil rights leader & clergyman (1929 – 1968)
another MLK great quote comes from God Is Spinach :
It may be true that the law cannot make a man love me,

But it can keep him from lynching me,

And I think that's pretty important.

Martin Luther King
Hopefully, the day will be remembered for the hope and the promise that fighting for Justice can mean to all of us.  That the words will be acted on to give us strength as we move forward.   That most of all, each of us look to commonality and how we can succeed  together.  HOW WE FIND PEACEAND FREEDOM FOR ALL.    AMEN!!!!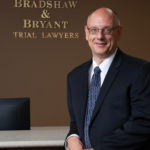 A founding partner with Bradshaw & Bryant, Mike Bryant has always fought to find justice for his clients—knowing that legal troubles, both personal injury and criminal, can be devastating for a family. Voted a Top 40 Personal Injury "Super Lawyer"  multiple years, Mr. Bryant has also been voted one of the Top 100 Minnesota  "Super Lawyers" four times.