The Hunting Season is in full swing here in Minnesota. I've been hearing stories of early trips out of work and advertisements for hunting widows and what they can do while the hunters are away. The roads have shown the signs of trucks out in the middle of fields and your occasional vehicle adorned with the fully dressed buck.
Of interest I recently saw a story that contained the 10 commandments of hunting:
1. Treat every firearm with the same respect due a loaded firearm.
2. Control the direction of your firearm's muzzle.
3. Be sure of your target and what is beyond it.
4. Be sure the barrel and action are clear of obstructions.
5. Unload firearms when not in use.
6. Never point a firearm at anything you do not intend to shoot.
7. Never climb a fence or tree, or jump a ditch or log, with a loaded firearm.
8. Never shoot a bullet at a flat, hard surface or water.
9. Store firearms and ammunition separately.
10. Avoid alcoholic beverages or other mood-altering drugs before or while shooting.
They all make sense and are things that my Dad instilled in me as he taught me to hunt. Since he has been gone I've not been out as much. From time to time John Bradshaw will get me out.
The key always is to think safety first.
For all hunters, the Legal Examiner members have provided gun safety and hunting tips in the past. For each hunt, it's important that the supervising adult be vigilant concerning each young hunter, that every hunter be watch out for them self, for everyone to use their gun properly, and be safe.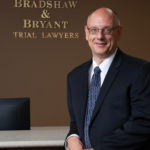 A founding partner with Bradshaw & Bryant, Mike Bryant has always fought to find justice for his clients—knowing that legal troubles, both personal injury and criminal, can be devastating for a family. Voted a Top 40 Personal Injury "Super Lawyer"  multiple years, Mr. Bryant has also been voted one of the Top 100 Minnesota  "Super Lawyers" four times.