Yesterday, we were met with a number of charges being brought against billionaire Jeffrey Epstein.   The Daily Beast reported:

Epstein will be charged with one count of sex trafficking of minors and one count of conspiracy to engage in sex trafficking of minors—which could put him away for a maximum of 45 years. The case is being handled by the Public Corruption Unit of the Southern District of New York
The internet exploded with partisan comparisons of what had been done with Trump and with the Clintons. Which, oddly, seems to be an ongoing battle,  even though the election is long since over. There were calls to give contributions back and investigate and maybe indict more parties.
Everyone that looked the other way or participated should be looked at and questioned.  Hopefully,  the truth will come out from the shadows and power and money won't stop it.
It should trouble everyone if anyone in a position of power and influence played a role, whether participating with or protecting a pedophile.  It was wrong 20 years ago and it is even clearer that it is wrong today.
All statements and actions should be looked at under a clear legal and moral standard, and not be given any type of free pass because, "That's  just the way things used to be."   Survivors need to be given the voice to step forward and tell their story.
Abuse of children and the continued silence by the offenders needs to be prevented. If you suffered, saw, or suspected such events, it is important to know that there is help out there.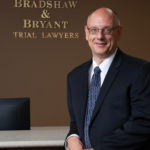 A founding partner with Bradshaw & Bryant, Mike Bryant has always fought to find justice for his clients—knowing that legal troubles, both personal injury and criminal, can be devastating for a family. Voted a Top 40 Personal Injury "Super Lawyer"  multiple years, Mr. Bryant has also been voted one of the Top 100 Minnesota  "Super Lawyers" four times.