Earlier this year I watched most of the recent trial that concerned the child abuse at Children's Theater.   The Children's Theater was found negligent, but not a direct cause.  I have had a lot of time for follow up with a number of people involved.  It can be easily guessed I do my work on behalf of the survivors. So originally I figured I would wait to see what happened with the motion last week.  I saw the statement by the survivor:
I am a patient person. Some might say too patient. I am also a person who wants to see the best in people. I am not a pessimist. I want to believe that people are intrinsically good and I give the benefit of the doubt. That is, until proven otherwise. I now have all the proof I need to call for an all out boycott of The Children's Theatre Company in Minneapolis.

Here are some facts to help you understand why;

-In December of 2015, I filed a civil suit against CTC and Jason McLean for the sexual assault that happened to me in 1983 while I was a student there. I filed it because of the MN Child Victims Act which allowed for my case to be brought fourth in the civil court, not the criminal court.

-Seventeen people filed civil suits because of abuse they endured at CTC. Hundreds could have.

-In order for the truth to be revealed about what happened to the students at CTC back then, we needed to have the legal platform of a the civil court, otherwise we could be sued for slander.

-If I could have done this in a criminal court, I would have.

-Because years we're going by with no resolution to any of the cases filed against the theater, I was required to go through all of the difficult hoops again. Some of those hoops include probing depositions and psychiatric evaluations. Trust me, they are not fun.

-We were not allowed to present evidence at trial that showed that McLean's criminal activities extended beyond me. Victims of his that were abused after May of 1983 were not allowed to testify at my trial because the defense objected to it saying that McLean's activities after my abuse was irrelevant and the judge ruled in their favor.

-I have been sexually assaulted four times in my life by four different men. My lawyers argued for me to not have to give testimony of the rapes that happened after McLean. The judge did not agree and I was required to describe every one of my sexual assaults at my trial.

-Kim Motes, the current Managing Director of CTC, was allowed to testify at my trial, giving testimony to how great they are today and how they only have an operating budget around $8m. My lawyers objected on the grounds that her testimony is irrelevant to what happened back in the 1980's and would prejudice the jury. The judge overruled and allowed Motes to testify.

-Because the law requires that juries NOT be instructed about who has to foot the bill of what ever they deem fair as a judgment, they only need to worry about the number, they were not told that the Insurance companies who covered the theater at the time of the abuse are the ones who would be required to pay. Unless they already knew that, which most people don't, there would be no way for them to know that this is an insurance liability issue.

-In January of this year, after a 13 day trial, CTC was found negligent for their part in my abuse as a student at CTC back in the early 1980's

-I was awarded a judgment of $3.68m but because the jury did not find CTC liable, only negligent, the payment of that judgment would fall to Jason McLean, the man who raped me.

-I will likely never see a penny of that judgment because McLean was allowed to sell his properties, the Varsity Theater and The Loring Pasta Bar, to his business associates, and flea the country. He currently resides in Cabo San Lucas and can not be extradited because this is civil court not criminal court. His assets are safely out of the country.

-My lawyers have filed for a mis-trial, citing several reason in a court hearing on Friday, not the least of which is the fact that the judge allowed Motes to testify and that never should have been allowed, especially in light of the fact that he would not allow the two Jane Does that were assaulted after me to testify.

-On Friday, I sat in a courtroom and listened to CTC's lawyers argue that I should have to pay $283,792.25 of CTC's trial fees. This is called "taxation of cost" and is only allowed to be an option to the prevailing party in a trial. CTC was found guilty of negligence. I'm not sure how this is even allowable.

CTC's administration and board would have to sign off on this request for taxation of cost. They know they got off the hook by the jury not finding them liable, and now they are going after me. So, in a nutshell:

CTC was found negligent in the case against them, that proved that the institution placed children in harms way, and now they are going after me, the childhood sexual assault survivor who was harmed because of that negligence, to pay cash dollars out of my own pocket, for proving their own negligence.

It is the last straw for me. I know that these kinds of cases are very much in the hands of the lawyers. This is their arena. So I have sat patiently waiting to see how CTC's current administration would chose to respond to all of this. What the survivors of CTC want is for them to own their part. To apologize. Not say how sorry they are for what happened to us and wish us well, but to publicly own the fact that their very existence as an institution today is because the well being and safety of the students was sacrificed for the INSTITUTION ITSELF! They would not EXIST if the kids hadn't been silenced. If the right thing was done back in the 1980's, when all of the shit hit the fan, the theater would have gone under. Instead, the board of directors and administration saved the theater and vilified the children who came forward at the time, saving the theater and their reputation, which never deserved to be saved. The BCA investigator who testified at my trial referred to the place as "a cesspool". My lawyer says that in the 35+ years he has been doing this work, he has NEVER seen anything like what they have found through their investigation. They should have gone down. They didn't. They survived. Those of us who were assaulted there still have nightmares. CTC needs to help those that were harmed, take a real stand, not deny their culpability and put "policies" in place, but take some damn initiative to make things better for children all over! Stop hiding from the past! They want to own their legacy of 50+ years, OWN ALL OF IT!!!

I have taken the high road through all of this, trying to give CTC a chance to do the right thing, not wanting to make things ugly because I believe healing happens in the light and we don't need more discourse. But this personal attack on me is enough evidence for me to take a different kind of stand. I ask that you not buy tickets, send your kids to their classes, audition for their shows, accept jobs or support them in any way until they do the right thing by the survivors. If you work there, ask yourself if you want to work for an organization that would do this to the survivor of sexual assault who brought the truth to light. Other theatre companies, make a point of reaching out to employees of CTC and offer them work so they have other options around town. To the other theater owners, artistic directors and administrators, board of director members around town, call on CTC to do the right thing. Many of you are my friends. Do you think this is right? If you are okay with it, ask yourself if you would be okay with it if I were your daughter.
Then I saw this:
Statement of Children's Theatre Company
May 26, 2019

Over the weekend, we've heard from several people regarding Laura Stearns' call for a boycott of the Theatre by artists, patrons and staff. With all respect to Laura, we disagree that such an action is appropriate or deserved.

For those who may have a limited familiarity with what's at issue, in 2015 Laura sued CTC and a former employee, Jason McLean, for sexually abusing her at his home in 1983 when she was a student of the Theatre. That case went to trial in January and a jury held McLean liable for the abuse Laura suffered, awarding her more than $3.5 million in damages to be paid by McLean. The Theatre was found not liable on all counts for any of the harm done to Laura by McLean.

Since then and despite the jury's verdict, Laura and her attorney have chosen to continue their lawsuit against the Theatre by filing motions to overturn the verdict or to seek a new trial. When those motions are exhausted, they may yet choose to pursue an appeal of the verdict to an appellate court or even the Minnesota Supreme Court.

We learned of Laura's abuse in December 2015. Since then, we have said that we believe Laura's account of what happened to her in 1983. We support her desire to have the truth be known and justice done. We hope she is able to collect on the judgement against McLean. And, while we hoped to resolve Laura's concerns through a settlement process instead of through the courts, we respect Laura's right to do so as well as her decision to continue those legal efforts.

Laura's decisions and her attorney's legal strategies, however, also impose obligations on us. The hearing last week is one such example. Minnesota law makes clear that the prevailing party 'shall be' awarded its costs by the court. And CTC was the prevailing party on all counts by every measure, just as Laura was the prevailing party against McLean. To be clear, procedurally we are not at a point where the Theatre has asked Laura to pay its costs. In fact, last week our attorney did NOT ask for a judgement against Laura but instead asked the court to determine what the proper cost is in our case. Any decision about if we would seek to recover those costs from Laura is for a later point in this ongoing process. We hope fervently that we never get to the point of having to make such a decision.

In stating this, in no way are trying to "blame the victim" for where we find ourselves, but to make it clear that we have no desire to keep this lawsuit going. Unfortunately, as last week's hearing made clear, that choice is not ours. To the contrary, the motion Laura objects to is a consequence of her (and her attorney's) decision to reject the jury's verdict. As always, we stand ready to end the legal process so that we can settle both parties' remaining issues.

Throughout this process and in every forum – face-to-face, between attorneys, in our filings, in court and in our public comments – we have tried to act with respect and empathy for Laura and the other victims of abuse from the 1970s and early 1980s. For more than three years, we have met with these victims to hear their stories directly, to offer our apology and support and to resolve their claims in a way that respects them and their experiences. Those efforts will continue and we will not waver in the tone or the intent we bring to those conversations.
And apparently from the comments and the follow up news story,  so did a lot of people.
What I was surprised by was three things:
1. That CTC sent out this statement with the ruling still under advisement.  They did the same thing with a statement at the start of the trial and seem to be doing their best to tamper with the process.   They fought in that courtroom against the survivor at every turn.   They were aggressive in their attacks on witnesses,  they repeatedly returned to other events in the survivor's life. They called the evidence used by the survivor a dog and pony show,  and they put on an expert that they paid over 200,000 dollars.   It didn't sound like the compassionate souls they pretend to be in their statements.
2. They were under no requirement to seek costs. While they cite the rule on costs that the judge must look to,  they, like any other party, are not required to to bring the motion.  Many trials are tried to verdict with neither side seeking costs.
But here the CTC has petitioned the court for their costs.  The costs that the judge awards will be in the form of a judgment against the survivor.
3. They continue to say they didn't know.   The reality is that John Clark Donough ran the theater and he was a major abuser.   He surrounded himself with other abusers and they preyed on children.  They were the children's theater.  They knew then and thankfully, because of the trial more is now known by all of us.
This nonsense needs to stop.  The theater needs to stop being protected and there needs to be a reckoning for all of those that they have injured.
Abuse of children and the continued silence by the offenders needs to be prevented. If you suffered, saw, or suspected such events, it is important to know that there is help out there.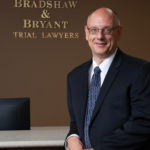 A founding partner with Bradshaw & Bryant, Mike Bryant has always fought to find justice for his clients—knowing that legal troubles, both personal injury and criminal, can be devastating for a family. Voted a Top 40 Personal Injury "Super Lawyer"  multiple years, Mr. Bryant has also been voted one of the Top 100 Minnesota  "Super Lawyers" four times.