Motor-vehicle collisions might be inevitable, but the financial devastation that comes with them doesn't have to be. If everyone maintained an adequate car insurance policy, no one would have to worry about the cost of repairing their vehicle, rehabilitating their injuries, or missing work in the wake of an accident.
This is the belief of most states, which is why almost all of them have minimum coverage requirements. In Minnesota, for example, if you want to register a vehicle, you must present proof of the following:
• $40,000 in personal injury protection (PIP) per person per accident;
• $60,000 in bodily injury liability coverage per accident;
• $10,000 in property damage liability coverage per accident;
• $50,000 in uninsured motorist (UM) coverage per accident; and
• $50,000 in underinsured motorist (UIM) coverage per accident.
Let's take a closer look at each of these, so you can better understand when—and why—they might be needed:
1. PIP Coverage
Minnesota's PIP requirement includes $20,000 for medical expenses and $20,000 for lost wages, replacement services, and other associated costs. You must draw upon this coverage following an accident, regardless of whether you actually contributed to it, unless you meet the state's serious injury threshold.
In other words, car accident victims are usually limited to seeking funds from their own carriers. Those who may bypass this "no fault" system and file a third-party claim with the liable motorist's carrier must prove they incurred more than $4,000 in medical expenses or suffered permanent disfigurement, permanent injury, or at least 60 days of disability.
2. Liability Coverage
Although Minnesota is a no-fault state, liability coverage is necessary for those scenarios mentioned above in which the victim gets seriously hurt. If you ever cause a wreck that results in significant damages, your liability coverage will apply should any third-party claims against you prove successful.
3. UM/UIM Coverage
When the at-fault motorist doesn't have enough—or any—insurance coverage, the victim can seek compensation under the UM/UIM portion of their own policy. Assuming they already exhausted their PIP funds, this might be the only way for them to recover the money they need to get their life back on track.
Are There Other Kinds of Coverage Available to Motorists in Minnesota?
The kinds of insurance mentioned above are not the only types of coverage available; they're merely the only that are required by law. Different carriers reimburse policyholders for different perils and events, so it's virtually impossible to list all the kinds of coverage available.
There are two other types worth mentioning, however: collision and comprehensive. Collision is usually required by lenders and covers any damage that the vehicle sustains in an accident with another vehicle. Comprehensive coverage may also be required by your lender if you'll be financing the vehicle and covers non-collision related damage, like that attributed to fire, vandalism, falling objects, or wild animals.
Call 800-770-7008 to Discuss Your Case with a Minneapolis Car Accident Lawyer
If you were seriously hurt in a collision, Bradshaw & Bryant will help you gather the evidence needed to ensure the insurance companies take your claim seriously. For more than three decades, we have been assisting injured parties and their families, so they can maintain their financial security despite getting hurt. Call 800-770-7008 or fill out our Contact Form to schedule a free initial consultation with a car accident attorney in Minneapolis.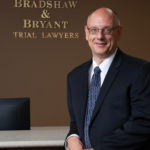 A founding partner with Bradshaw & Bryant, Mike Bryant has always fought to find justice for his clients—knowing that legal troubles, both personal injury and criminal, can be devastating for a family. Voted a Top 40 Personal Injury "Super Lawyer"  multiple years, Mr. Bryant has also been voted one of the Top 100 Minnesota  "Super Lawyers" four times.