Losing a loved one is always devastating, but it can be especially difficult to cope if the death was entirely preventable. If you lost a family member in an accident that occurred solely because of someone else's intentional act or negligence, you may be entitled to compensation for any resulting damages.
Although filing a wrongful death claim against the liable party will not bring the deceased back, it may help your family attain some sense of closure if your case is successful. Also, the settlement can protect your financial security in the wake of the loss.
In the state of Minnesota, wrongful death claims can include compensation for the following damages:
Funeral and burial expenses;
Medical bills that the deceased accrued prior to passing;
Loss of income, benefits, and anticipated inheritances;
Loss of companionship, comfort, and guidance;
Loss of services, protection, care, and assistance; and
Mental anguish, sorrow, and loss of solace.
Can You Recover Punitive Damages by Filing a Wrongful Death Claim in Minnesota? 
In addition to the damages listed above, plaintiffs in wrongful death lawsuits may be able to recover punitive damages. In Minnesota, a plaintiff can recover punitive damages following the loss of a loved one if it can be shown that the liable party acted with deliberate disregard for the deceased's rights or safety.
The claim for punitive damages is separate from the initial civil action. After filing the wrongful death complaint, you must make a motion to amend the pleadings. In the motion, which a wrongful death attorney can prepare, you must allege that the defendant's actions warrant punitive damages.
How Long Do Surviving Family Members Have to File a Wrongful Death Lawsuit in Minnesota? 
In Minnesota, surviving family members typically have three years from the date of their loved one's death to file a suit against the liable party or parties; however, there are several exceptions to this statute. For example, there is no deadline if the death was the result of an intentional act constituting murder. On the other hand, there is a much shorter deadline if the liable party was a government entity.
If you want to bring a suit against a local, municipal, or state agency, you must notify the attorney general within 180 days of the death. This notice should be in writing and should include all relevant details of the case, including the date and circumstances of the death, the names of any government employees who were involved, and the total amount of compensation your family is requesting. If the government denies the claim, you then have three years to bring a formal suit. 
Discuss Your Case with a Wrongful Death Lawyer in Minneapolis 
If you recently lost a loved one in some kind of preventable accident and you think your family has grounds for a wrongful death claim, turn to the Minneapolis personal injury attorneys at Bradshaw & Bryant. For six consecutive years, attorney Michael Bryant has been recognized as a SuperLawyer and has been named among Minnesota's Top 40 Personal Injury Lawyers by Minnesota Law & Politics. Call 800-770-7008 or fill out our Contact Form to schedule a free case evaluation with an accident attorney on our team.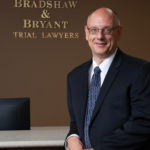 A founding partner with Bradshaw & Bryant, Mike Bryant has always fought to find justice for his clients—knowing that legal troubles, both personal injury and criminal, can be devastating for a family. Voted a Top 40 Personal Injury "Super Lawyer"  multiple years, Mr. Bryant has also been voted one of the Top 100 Minnesota  "Super Lawyers" four times.