People expect their family pets to have friendly dispositions. While this is usually the case when it comes to dogs, it's not necessarily a guarantee.
Not all dogs are suited for life in a bustling household. What's more, those that can thrive in such an environment are still animals. That means they ultimately rely on their instincts, and they will attack if they ever sense enough of a threat.
Unfortunately, such attacks are often against vulnerable individuals who meant no harm. Across the country, dogs reportedly bite more than 13,000 people every single day.
If you were attacked by someone else's dog, you're probably facing a number of unknowns. How serious will your wounds turn out to be? What kind of scarring can you expect once they heal? And how will you continue taking care of your family as long as you're facing mounting medical bills?
While taking action against the negligent owner or handler won't address all the unknowns, it could at least provide the compensation needed to ensure your financial security in the aftermath. In Minnesota, a successful dog bite claim can yield compensation for the following:
1. Medical Expenses
Under tort law, personal injury claimants may seek compensation for virtually all their health care-related expenses. Examples include costs stemming from:
• Ambulance transport;
• Emergency services;
• Hospitalizations;
• Surgeries;
• Diagnostic imaging;
• Physical therapy;
• Home care;
• Prescription medication; and
• Anticipated procedures.
2. Lost Income
If your injuries were so severe that they kept you from working, you may seek compensation for the resulting lost wages. What's more, if the bite left you permanently disabled, you may also pursue funds for lost earning capacity.
To determine a reasonable figure for loss of future earnings, your legal team will consult industry experts, who will outline your most likely career trajectory. They will also talk to economists, who can help account for inflation in the coming decades.
3. Non-Economic Damages
Getting bitten by a dog is inherently traumatic both in the moment and in the weeks and months that follow. Thankfully, tort law recognizes as much.
In Minnesota, dog bite victims can seek compensation for the following non-monetary losses:
• Pain and suffering;
• Loss of enjoyment in life; and
• Mental anguish.
Depending on the severity of the bite, their spouse may also be entitled to compensation for loss of companionship or consortium. This encompasses the loss of love, society, services, and affection that individuals incur when their husband or wife sustains serious injuries.
4. Punitive Damages
Most dog bite claims do not warrant punitive damages; however, they may be available if the owner or handler encouraged the dog to attack. Unless you were trespassing or posing a physical threat at the time, there was undoubtedly no reason for the liable party to provoke the dog to bite.
Speak with a St. Cloud Dog Bite Attorney
At Bradshaw & Bryant, we understand just how devastating dog bites can be. If you were attacked by someone else's pet, we'll help you gather the evidence needed to hold the negligent party accountable. Call 320-259-5414 or complete our Online Contact Form to schedule a free initial consultation with a dog bite lawyer in St. Cloud.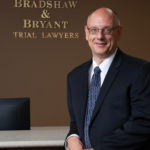 A founding partner with Bradshaw & Bryant, Mike Bryant has always fought to find justice for his clients—knowing that legal troubles, both personal injury and criminal, can be devastating for a family. Voted a Top 40 Personal Injury "Super Lawyer"  multiple years, Mr. Bryant has also been voted one of the Top 100 Minnesota  "Super Lawyers" four times.