Whenever you take your family out for a nice meal, you don't expect the evening to end at the hospital. Unfortunately, as many patrons have learned the hard way, restaurant injuries are all too common.
If you were seriously hurting while dining out, you may have grounds for legal action. As long as you can prove the accident wouldn't have occurred had the establishment exercised reasonable care, you should be able to seek compensation.
In the state of Minnesota, personal injury claimants can pursue funds for the following:
1. Medical Expenses
Virtually all the costs associated with treating your restaurant injuries are recoverable. Examples include ambulance fees, hospital bills, and office copays. You can also seek compensation for home care, ongoing rehabilitation, mobility aids, prescription medication, and home and vehicle modifications needed to accommodate any permanent disabilities.
2. Lost Earnings
If you cannot work while recovering from your injuries, you can include the associated lost wages in the settlement negotiations. Should your injuries be so severe that you're unable to return to your job at all, you can also seek compensation for lost earning capacity and lost benefits. In other words, the income you would have made over the rest of your career had you been able to reenter the workforce is recoverable.
3. The Cost of Reasonably Necessary Replacement Services
While recovering from serious injuries, most people need at least a little help with essential tasks, from bathing and grooming to preparing meals and cleaning their homes. Thankfully, hiring someone to help with any such tasks is considered a recoverable damage. As long as you can demonstrate that you were unable to complete those tasks yourself, you should be reimbursed for the cost of delegating them.
4. Non-Monetary Losses
When it comes to accidental injuries, Minnesota recognizes the fact that the non-economic damages can be just as devastating as their economic counterparts. Pain and suffering is probably the most common non-monetary loss. Other examples include mental anguish and loss of enjoyment in life.
It's also worth noting that the average marital relationship can suffer from accidental injuries. As such, Minnesota allows for the recovery of loss of consortium. This encompasses the loss of love, society, companionship, and services that someone incurs when their husband or wife gets seriously hurt.
Keep in mind, however, that compensation for loss of consortium cannot be rolled into the primary claim. The affected spouse must file their own claim in pursuit of funds for their recoverable damages.
Call 800-770-7008 to Speak with a Restaurant Injury Lawyer in Minneapolis
Were you seriously hurt at a restaurant through no fault of your own? For help holding the liable party accountable, turn to Bradshaw & Bryant.
Our compassionate team is well-versed in tort law, and we know what it takes to achieve success in even the most complex scenarios involving restaurant establishments. To schedule a free initial consultation with a restaurant injury attorney in Minneapolis, call 800-770-7008 or fill out our Contact Form.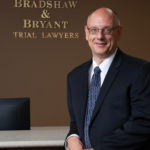 A founding partner with Bradshaw & Bryant, Mike Bryant has always fought to find justice for his clients—knowing that legal troubles, both personal injury and criminal, can be devastating for a family. Voted a Top 40 Personal Injury "Super Lawyer"  multiple years, Mr. Bryant has also been voted one of the Top 100 Minnesota  "Super Lawyers" four times.