From salmonella and listeria to undeclared nuts and E. coli, there are countless issues that can make virtually any food item unsafe for human consumption. Despite strict regulations that aim to prevent contamination, hundreds of food recalls happen every single year. Unfortunately for many consumers, these alerts come too late.
Before a company can issue a recall, it must recognize that something is wrong. That "something" is often customers getting sick. Even if the manufacturer issues an immediate recall after just one person falls ill, many other consumers are likely to get sick before the news reaches them.
Read on to learn what to do if you've consumed a food product that was recalled:
Stay Calm & Document Everything 
There are dozens of reasons why manufacturers might recall a food or beverage. For example, something as simple as undisclosed soy, milk, or nuts can result in a recall. If this happens to be the case for the product you've been eating and you're not allergic to the undisclosed ingredient, you should theoretically be fine.
If the item was contaminated with E. coli or salmonella, on the other hand, it may be harder to stay calm. In this situation, learning as much as possible about the recall can help. For example, companies often issue sweeping recalls even if only a small portion of a single batch was affected.
You should also pay attention to how you feel. Research symptoms associated with bacterial contamination so you can identify them and seek treatment should they arise.
If you do start feeling sick, visit a doctor as soon as possible. If severe symptoms arise suddenly, as they can with food poisoning, go to the emergency room right away, and ask a friend or loved one to document everything.
Once your health stabilizes, you can start taking your own notes. Track all expenses you incur as a result of the food poisoning, and keep notes about how the illness has affected your daily life.
After the hospital releases you, call a product liability lawyer. The sooner you start building a claim, the sooner you may be able to recover compensation for your healthcare expenses, lost income, and other damages. 
Discuss Your Case with a Product Liability Attorney in St. Cloud
If you fell ill after eating contaminated food, you may be entitled to compensation for all resulting damages. To determine if you have grounds for a claim, turn to a personal injury lawyer at Bradshaw & Bryant.
Our St. Cloud product liability attorneys will evaluate the circumstances of your case and help you determine the most strategic way to proceed. We are passionate about getting our clients the results they deserve as quickly as possible. Call 320-259-5414 or fill out our Contact Form to schedule a free case evaluation with a personal injury lawyer.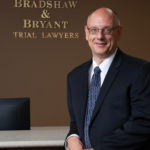 A founding partner with Bradshaw & Bryant, Mike Bryant has always fought to find justice for his clients—knowing that legal troubles, both personal injury and criminal, can be devastating for a family. Voted a Top 40 Personal Injury "Super Lawyer"  multiple years, Mr. Bryant has also been voted one of the Top 100 Minnesota  "Super Lawyers" four times.