This month, we will be looking at things that we cannot tell the jury during a trial. It is truly unfortunate that as the party with the burden of proof, meaning the party that has to prove everything by a standard more likely true than not, that we cannot tell the jury the truth. I absolutely believe that the jury, during a trial, will start wondering about things that they are not told. Because of this I am always concerned that my client will bear the brunt of not being able to be forthright and get all the information across during the trial. It is one of the many ways an experienced personal injury lawyer can make sure your rights are protected as best they can be under the law.
The plaintiff has often had their life turned upside down. The defense has spent sometimes years going through every single one of the plaintiff's prior records. Consequently, guesses about what is not out there or claims about hypotheticals should be absolutely ignored. The plaintiff has been run through the ringer long before they were even able to step into court.
If you, your family or someone you know is going to trial in a personal injury case, you need to have an experienced trial lawyer on your side with success in helping people who are injured through no fault of their own. Because of all the potential ways that the insurance companies can take advantage, you need to know what your rights are and the best way to try your case.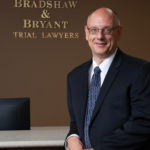 A founding partner with Bradshaw & Bryant, Mike Bryant has always fought to find justice for his clients—knowing that legal troubles, both personal injury and criminal, can be devastating for a family. Voted a Top 40 Personal Injury "Super Lawyer"  multiple years, Mr. Bryant has also been voted one of the Top 100 Minnesota  "Super Lawyers" four times.