If you were hurt in a large truck crash through no fault of your own, you deserve compensation, and a seasoned attorney can help you pursue it. Since not all lawyers are equipped to build strong truck accident claims, however, you shouldn't turn to just anyone.
To give your case the best chance of success, it's imperative to enlist help from a strategic professional who has relevant experience, not to mention the resources needed to take on even the largest motor carriers. With so much at stake, you're also going to want to ensure your claim will receive the attention it demands.
You can determine whether you've found the right truck accident attorney by asking the following questions during your initial consultation:
1. Have You Handled Claims Like Mine?
Although every personal injury claim is inherently unique, the same kinds of accident scenarios generally call for the same kinds of strategies when seeking damages. That means you'll likely be in good hands if you find someone who has a history of resolving cases involving large truck crashes.
During your first meeting, ask how much of the firm's casework is comprised of motor-vehicle collisions in general and then truck accidents in particular. The answer will let you know if they're well-versed in all the nuances of claims involving wrecks.
2. How Many Cases Do You Take to Trial?
Since most personal injury claims are settled, you shouldn't be alarmed if the firm rarely goes to court. If they don't take any cases at all to trial, however, it may be a sign that they accept unfair payouts on behalf of their clients just to avoid the hassle of filing formal lawsuits.
At the end of the day, you want representation from someone who's committed to securing you the most favorable outcome possible, even if that means proceeding to court.
3. How Accessible Will You Be Over the Course of the Proceedings?
If you turn to a reputable firm, you certainly won't be their only client. You should, however, still feel like a priority.
During your consultation, ask how how long it will take for them to get back to you when you reach out with questions or concerns. If the attorney promises to respond to all inquiries within a reasonable timeframe, you'll know they value their clients' time as much as their own.
4. What Is Your Fee Structure?
Most truck accident lawyers take on clients for a contingency fee, which means their payment comes out of the final payout. Beware of firms that take on cases for a low, flat rate, since that means they don't actually have a stake in the outcome.
Call 800-770-7008 to Speak with a Truck Accident Lawyer in Minneapolis
At Bradshaw & Bryant, we have the knowledge, resources, and experience to go up against even the largest insurance carriers. If you want to file a third-party claim following a large truck crash, we'll help you gather the evidence needed to proceed. To schedule a free case review with a truck accident attorney in Minneapolis, call 800-770-7008 or fill out the Contact Form on our website.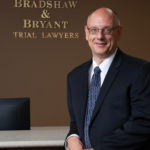 A founding partner with Bradshaw & Bryant, Mike Bryant has always fought to find justice for his clients—knowing that legal troubles, both personal injury and criminal, can be devastating for a family. Voted a Top 40 Personal Injury "Super Lawyer"  multiple years, Mr. Bryant has also been voted one of the Top 100 Minnesota  "Super Lawyers" four times.