Building a strong car accident claim starts at the scene. While it's true that the steps you take over the days and weeks following the wreck will have a major impact on the outcome of your case, what you do before even leaving the scene could be the difference between winning a settlement and walking away with nothing.
If you were hurt in a collision, a personal injury attorney can evaluate the evidence and information you gathered at the scene to help you determine how best to proceed. Even if you forgot to document critical details, a strategic and experienced lawyer may still be able to help you secure a fair payout.
Should you ever end up in another crash, be sure to keep the following do's and don'ts in mind:
1. Do Photograph the Wreckage
As long as you didn't sustain life-threatening injuries and you're physically capable of walking around, photograph the scene from all angles. Once police arrive and start directing traffic away from the area, it should be safe to shoot each vehicle involved, injuries, and debris on the road. Accident reconstruction experts can examine these images to determine what happened in the moments leading up to the crash.
2. Don't Apologize to Those Involved
For many people, apologizing to those in distress is almost instinctual. If you apologize at the scene of a car accident, though, it could be interpreted as an admission of fault. If such an admission is noted in the official police report, it may hurt your chances of recovering damages.
3. Do Exchange Information
You should obtain the following information from all the other motorists involved:
• Insurance policy numbers;
• Driver's license numbers; and
• Contact details.
You should also get the names and phone numbers of any eyewitnesses, as well as the names and badge numbers of all responding officers.
4. Don't Refuse Medical Treatment
Emergency responders might notice the subtle symptoms of brain trauma or another injury, so it's wise to accept care after a serious crash. Also, if the police report mentions that you were treated at the scene, this might work in your favor.
Depending on the circumstances, though, you may be inclined to refuse care. For example, if other parties clearly sustained more severe injuries, you may want first responders to focus on them.
Regardless of whether you were treated at the scene, you should visit a hospital or clinic as soon as possible for a thorough evaluation and official diagnosis. If you postpone care for several days and this causes your condition to worsen or prolongs your recovery, you might not be able to recover compensation for 100 percent of your damages. The insurance company might also argue that if your injuries were as serious as you're claiming, you would have had no choice but to visit a doctor right away.
Call 800-770-7008 to Discuss Your Case with a Minneapolis Car Accident Attorney
If you sustained serious injuries in a collision through no fault of your own, contact Bradshaw & Bryant to determine the most strategic way to proceed. We are dedicated to getting our clients the results they deserve as quickly as possible. Call 800-770-7008 or use our Online Contact Form to set up a free case evaluation with a Minneapolis car accident lawyer.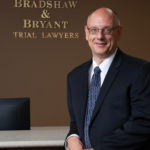 A founding partner with Bradshaw & Bryant, Mike Bryant has always fought to find justice for his clients—knowing that legal troubles, both personal injury and criminal, can be devastating for a family. Voted a Top 40 Personal Injury "Super Lawyer"  multiple years, Mr. Bryant has also been voted one of the Top 100 Minnesota  "Super Lawyers" four times.