From icy conditions and unmanicured trails to malfunctioning chairlifts and rowdy groups oblivious to right-of-way, hazards lurk on every run. In other words, no one—no matter how experienced they are—is invincible on the slopes.
If you were seriously hurt because someone else failed to act with reasonable care, you may be thinking about taking action. The damages are likely adding up fast, and it may be impossible to maintain your financial footing if you don't seek compensation.
It's natural, however, to be wary of proceeding. You might feel overwhelmed, for example, at the thought of having to put together a strong claim and then navigate complex legal proceedings.
Thankfully, you can ease much of the stress simply by knowing what to expect. While every personal injury claim is inherently unique, here's some general information you should know before getting started:
1. There May Be More Than One Liable Party
It's not uncommon for tort claimants to seek compensation from more than one party. Cases involving ski accidents are no exception, as there are often scenarios in which multiple parties are to blame.
The easiest way to identify all those who played a role in the incident is by hiring a personal injury attorney. A resourceful professional will be able to conduct a thorough investigation that hopefully yields the evidence needed to assign fault. And if multiple parties are, in fact, responsible, naming all of them in your claim will allow you to pursue the maximum payout possible.
2. There Are Strict Filing Deadlines for Going to Court
Most personal injury claims are settled. That still leaves a small percentage, however, that end up going to trial. Since there's a chance yours could go to court, too, it's wise to review the filing deadlines that might apply.
The typical statute of limitations for personal injury actions founded on negligence is six years. Those involving intentional misconduct, on the other hand, must be filed within just two years. Because there are exceptions to these deadlines, though, it's advisable to consult a lawyer as soon as possible.
3. You Can Recover Both Economic and Non-Economic Damages
You may already be saving the invoices and receipts that correspond to your injury-related expenses, but did you know you could seek compensation for your non-economic damages, too? Minnesota allows for the recovery of non-monetary losses like pain and suffering, mental anguish, and loss of enjoyment in life.
To demonstrate the extent of these kinds of damages, claimants often use journal entries, psychological evaluations, day-in-the-life videos, and statements from loved ones and colleagues.
Speak with a Minneapolis Skiing Accident Attorney
At Bradshaw & Bryant, we know just how devastating unanticipated injuries can be. If you were seriously hurt on the slopes and you want to hold the liable party accountable, we'll do everything in our power to help you do so. To set up a free initial consultation with a skiing accident lawyer in Minneapolis, fill out our Contact Form or call 800-770-7008.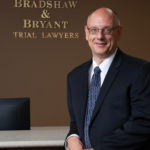 A founding partner with Bradshaw & Bryant, Mike Bryant has always fought to find justice for his clients—knowing that legal troubles, both personal injury and criminal, can be devastating for a family. Voted a Top 40 Personal Injury "Super Lawyer"  multiple years, Mr. Bryant has also been voted one of the Top 100 Minnesota  "Super Lawyers" four times.