If you were hurt in a motorcycle accident, it is important that you start a personal injury journal as soon as possible. Recording details about your symptoms and how the injuries are affecting your life (and the lives of your loved ones) can help your attorney prove non-economic damages such as pain and suffering, loss of enjoyment in life, and loss of consortium.
Unless you have kept a personal injury journal before, you may be wondering what to write. Below we've listed some of the most essential details to include:
The Circumstances Surrounding the Accident 
Human memory about a particular event becomes less reliable over time, so you should write down everything about the crash right away. If you were able to gather information at the scene such as the names and phone numbers of eyewitnesses, or the insurance information of the other motorists involved, copy them into the journal, as well. 
Your Prognosis 
Make a note of all the tests and screenings you undergo following the accident, as well as your prognosis. Questions to consider when writing these entries include:
What is the extent of my injuries?
Am I expected to make a full recovery or will I be left with permanent disabilities?
How long do doctors believe it will take for me to reach maximum medical improvement (MMI)?
Will I be able to return to work upon reaching MMI? 
All Relevant Appointments 
If your injuries are serious, you will likely see different providers at different practices over the course of your recovery. That means none of your individual medical records will provide a comprehensive list of every appointment. Your personal injury journal, on the other hand, can. Give every appointment its own entry so the journal provides a clear and complete picture of all the care you undergo.   
Each Injury's Impact on Your Everyday Life 
How have the injuries been affecting your quality of life? For example, are you unable to participate in favorite hobbies and social activities? How have your injuries impacted your loved ones? Answering these questions in your journal may help your attorney prove pain and suffering, mental anguish, loss of enjoyment in life, and loss of consortium.
The Symptoms You Are Experiencing 
Write out the symptoms you are experiencing as well as their frequency and severity on a scale of 1 to 10. You should also make a note of any prescription drug side effects. 
Call 800-770-7008 for a Free Consultation with a Minneapolis Motorcycle Accident Attorney 
If you were hurt in a motorcycle accident through no fault of your own, contact Bradshaw & Bryant. For six consecutive years, attorney Michael Bryant has been recognized as a Super Lawyer and has been named among Minnesota's Top 40 Personal Injury Lawyers by Minnesota Law & Politics.
Our legal team can help you navigate every stage of the proceedings and fight for the highest settlement possible. Call 800-770-7008 or use our Online Contact Form to set up a free case evaluation with a motorcycle accident lawyer in Minneapolis.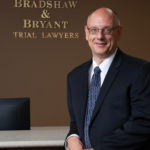 A founding partner with Bradshaw & Bryant, Mike Bryant has always fought to find justice for his clients—knowing that legal troubles, both personal injury and criminal, can be devastating for a family. Voted a Top 40 Personal Injury "Super Lawyer"  multiple years, Mr. Bryant has also been voted one of the Top 100 Minnesota  "Super Lawyers" four times.