It's been great to have a forum to talk about making the world safer, but even more important has been the opportunity to learn from Legal Examiner and great lawyers across the country. Here's the list of what the most viewed pieces have been for 2019.
Family Found to Have Met Burden of Proof that Gardasil Caused Daughter's Death, ROOPAL LUHANA  FEB 20, 2019
How the Government Shutdown Will Affect the Tax Season,  JOHN BAIR  JAN 22, 2019
Pogust Millrood Files First Suit in Nation Against Injectafer Manufacturer,  RACHEL GORE  JAN 7, 2019
Fiat Chrysler Agrees to Class-Action Settlement, but Transmission Problems Continue for Jeeps & Others, ERIC T. CHAFFIN  FEB 22, 2019
Roundup Litigation Updates Ignite Hope for a Bayer Settlement, MIKE DALY  JUL 12, 2019
Patients Motion for Pinnacle Hip Court to Schedule Status Conference, MAGLIO CHRISTOPHER & TOALE, P.A.  JUN 24, 2019
Very Questionable Response From Children's Theater, MIKE BRYANT  MAY 28, 2019
Proposed Hours-of-Service Regulation Changes Decrease Trucking Industry Safety, FLORENCE J. MURRAY  SEP 5, 2019
Final Trucking Compliance Deadline for ELD Safety Mandate Comes Dec. 16, FLORENCE J. MURRAY  NOV 27, 2019
Michigan Catholic Church Sexual Abuse Crisis, MICK S. GREWAL SR  MAR 25, 2019
Here is the top ten from our St Cloud blog.
Here is the top ten from our Minneapolis blog.
Worth reading also :
Top 10 Civil Justice Stories of 2019: Part One, RICHARD SHAPIRO  DEC 16, 2019
Top 10 Civil Justice Stories of 2019 – Part II (i.e. Top 5), RICHARD SHAPIRO  DEC 26, 2019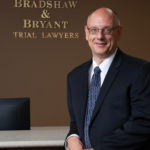 A founding partner with Bradshaw & Bryant, Mike Bryant has always fought to find justice for his clients—knowing that legal troubles, both personal injury and criminal, can be devastating for a family. Voted a Top 40 Personal Injury "Super Lawyer"  multiple years, Mr. Bryant has also been voted one of the Top 100 Minnesota  "Super Lawyers" four times.